The 1989 Congress $5 Gold Coin (Buy on eBay) was offered along with a clad half dollar and silver dollar to mark the 200th anniversary of the operation of Congress under the US Constitution. The three coins featured images of the Capitol building, Capitol dome, or the Freedom statue which rests atop the dome. All coins featured a dual date with the anniversary dates.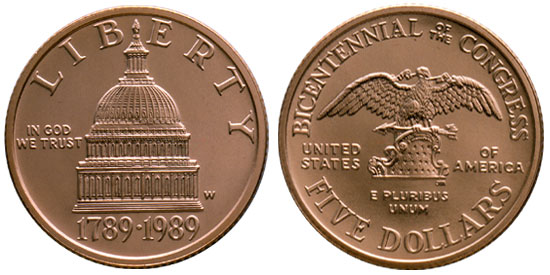 On the obverse of the gold coin, a view of the Capitol dome is featured. On the inscription "Liberty" above, the letter "Y" appears transposed, as the shading was done on the wrong side of the letter. The remaining inscriptions include "In God We Trust" and "1798-1989". The reverse design features the majestic eagle in the old Senate chamber. Inscriptions include "Bicentennial of the Congress", "United States of America", "E Pluribus Unum", and "Five Dollars". Both the obverse and reverse were designed by John Mercanti.
The Congress Bicentennial $5 Gold Coins were available in both proof and uncirculated versions struck at the West Point Mint. The coins were sold individually or as part of a three coin proof set, three coin uncirculated set, or comprehensive six coin set. The maximum authorized mintage was set at a lofty one million coins.
Final sales during the period of availability reached 164,690 proofs and 46,899 uncirculated coins. Although this was significantly below the maximum authorized mintage and lower than some previous commemorative gold coins, ultimately the mintage level proved high compared to subsequent issues. Present day collectors can acquire these coins at prices based primarily on the value of the precious metal content.
Coin Specifications
Designer: John Mercanti
Weight: 8.3590 g
Composition: 90% gold (0.242 ounces of gold)
Diameter: 21.6 mm
Maximum Authorized Mintage: 1,000,000
1989-W Uncirculated Congress $5 Gold
Pre-Issue Price: $185.00
Regular Price: $200.00
Final Mintage: 46,899
1989-W Proof Congress $5 Gold
Pre-Issue Price: $195.00
Regular Price: $215.00
Final Mintage: 164,690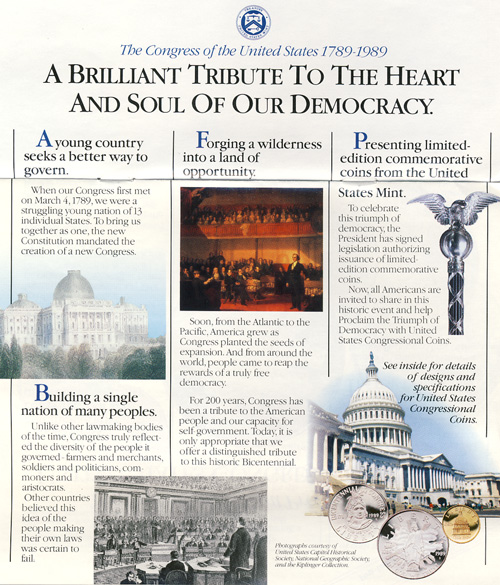 Other 1989 Congress Bicentennial Commemorative Coins
1989 Congress Half Dollar
1989 Congress Silver Dollar