The 2001 Capitol Visitor Center Half Dollar (Buy on eBay) represented the first commemorative half dollar issued in five years. The last commemorative coins of this denomination had been issued as part of the large program from 1995-1996 for the Olympics. The present coin was issued along with a $5 gold and $1 silver for the proposed Capitol Visitor Center.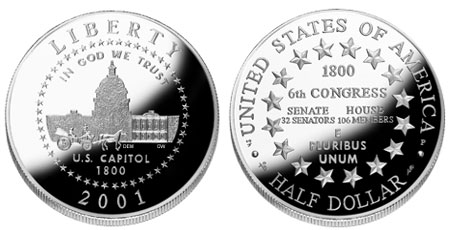 The obverse design of the coin consist of the North Wing of the original Capitol superimposed on an outline of the present building. A horse drawn carriage appears in front and a circle of stars surround. The inscriptions read "Liberty", "In God We Trust", "U.S. Capitol", and the dates "1800" and "2001". The obverse was designed by Dean McMullen.
The reverse features an arrangement of inscriptions in different fonts and a circle of 16 stars, representing the 16 states that existed in 1800. The central inscriptions read "1800 /6th Congress / Senate 32 Senators / House 106 Members / E Pluribus Unum". Inscriptions around the outer edge of the coin read "United States of America" and "Half Dollar". The designers of the reverse was Alex Shagin and Marcel Jovine.
The US Mint produced the coins in proof and uncirculated versions at the Philadelphia Mint. The coins were offered individually in regular packaging or simple mailers, as part of the 3 Coin Proof Set priced, and within a specially packaged Collector Set including only the uncirculated half dollar. The half dollars had a maximum authorized mintage of 750,000 across all options, but only sold less than 200,000 by the end of sales.

Coin Specifications
Designer: Dean McMullen (obverse), Alex Shagin and Marcel Jovine (reverse)
Weight: 11.3400 g
Composition: 91.67% copper, 8.33% nickel
Diameter: 30.61 mm
Maximum Authorized Mintage: 750,000
2001-P Uncirculated Capitol Visitor Center Half Dollar
Pre-Issue Price: $8.75 ($7.75 in mailer)
Regular Price: $9.75 ($8.75 in mailer)
Final Mintage: 99,157
2001-P Proof Capitol Visitor Center Half Dollar
Pre-Issue Price: $11.25 ($10.75 in mailer)
Regular Price: $12.00 ($11.50 in mailer)
Final Mintage: 77,962