The obverse design of the half dollar for the 2019 American Legion centennial commemorative coin program shows a young girl and boy with the girl wearing her grandfather's American Legion cap. Each child has their hand on their heart to recite the pledge of allegiance. Underneath is the inscription "I pledge allegiance to the flag". This side was designed by Phebe Hemphill and sculpted by Richard Masters.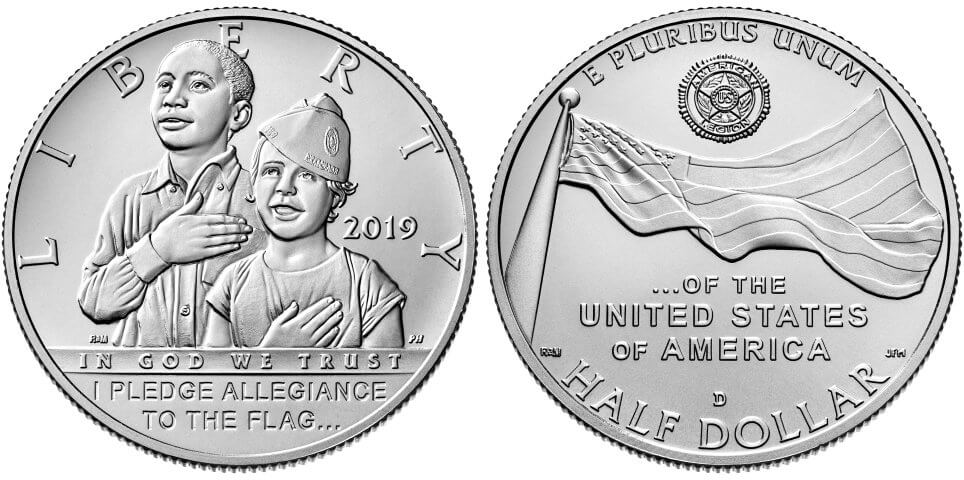 The reverse completes the phrase from the obverse, adding "of the United States of America" and depicts a U.S. flag waving atop a high flagpole from the perspective of the children looking up. The American Legion emblem appears above the flag. This side was design by Joseph Menna and sculpted by Richard Masters.
These coins went on sale on March 20, 2019 priced at $25.95 for the uncirculated coin and $27.95 for the Proof. After April 15 prices were increased by $5 for each coin. Each coin also included a surcharge of $5 that went to the American Legion.
The Proof coin was also included in the American Legion three-coin Proof set. Final sales were 11,425 for the mint state piece (Buy on eBay), and 26,272 for the Proof (Buy on eBay), which included 18,821 single coins and 7,451 in the sets.
Coin Specifications
Designer: Phebe Hemphill (obverse), Joseph Menna (reverse)
Weight: 11.340 grams
Composition: 9.33% nickel, 90.67% copper
Diameter: 30.607 mm (1.205 inches)
Maximum authorized mintage: 750,000
2019-D Uncirculated Apollo 11 Clad Half Dollar
Pre-issue price: $25.95
Regular price: $30.95
Final mintage: 11,425
2019-S Proof Apollo 11 Clad Half Dollar
Pre-issue price: $27.95
Regular price: $32.95
Final mintage: 26,272*
*Includes 7,451 sold in the American Legion Proof Set