After some ups and downs throughout the series, modern commemorative coins would enter a relatively more stable period from 2005 until 2009. During this time either one or two programs were authorized for each year, resulting in two to three different coin releases per year. Collector purchasing levels rebounded and there were several issues that reached their maximum authorized mintage.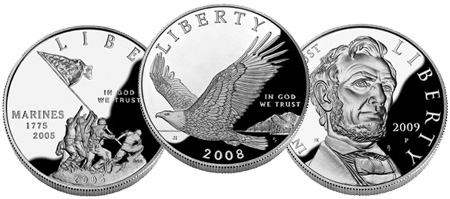 Coins that achieved a sell out included the 2005 Marine Corps Silver Dollar, which depicted the famous flag raising at Iwo Jima, the 2006 Benjamin Franklin Silver Dollar, which featured two different designs, and the 2009 Abraham Lincoln Silver Dollar, issued for the bicentennial of the 16th President's birth.
Other programs celebrated or honored John Marshall, the San Francisco Old Mint or "Granite Lady", the settlement at Jamestown, the Little Rock Nine, the Bald Eagle, and Louis Braille. The program featuring the Bald Eagle was the only one to include a full slate of issues, the half dollar, silver dollar, and $5 gold coin.
Visit the pages below for additional information on each of the 2005-2009 commemorative coins issued by the United States Mint.