To celebrate the 200th anniversary of its founding, the 2000 Library of Congress Silver Dollar (Buy on eBay) was issued by the United States Mint. The same commemorative coin program also included the issuance of a gold and platinum bimetallic coin, which today commands more interest than the silver dollar.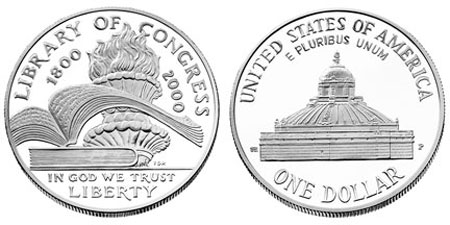 The obverse of the silver dollar features two books, one is open with its spine resting on the other closed book. The torch of learning appears in the background. The inscriptions read "Library of Congress", with anniversary dates "1800" and "2000", the motto "In God We Trust", and "Liberty". The reverse of the coin features the dome of the Library of Congress Jefferson Building. The inscriptions "United States of America" and "E Pluribus Unum" appear above, with "One Dollar" below. The obverse was designed by Thomas D. Rogers and the reverse was designed by John Mercanti.
The Library of Congress Silver Dollars were produced at the Philadelphia Mint and carry the "P" mint mark on the reverse. The coins were sold individually in proof or uncirculated versions, available from April 24, 2000 to December 31, 2000. The maximum authorized mintage for the coins was 500,000 across both options. Final sales reached just over half this level.
Coin Specifications
Designer: Thomas D. Rogers (obverse), John Mercanti (reverse)
Weight: 26.7300 g
Composition: 90% Silver (0.7736 ounces of silver)
Diameter: 38.1 mm
Maximum Authorized Mintage: 500,000
2000-P Uncirculated Library of Congress Silver Dollar
Pre-Issue Price: $25.00
Regular Price: $27.00
Final Mintage: 53,264
2000-P Proof Library of Congress Silver Dollar
Pre-Issue Price:$28.00
Regular Price: $32.00
Final Mintage: 198,503