The United States Mint issued the 2012 Star Spangled Banner Silver Dollar (Buy on eBay) to commemorate the War of 1812, particularly the Battle of Baltimore that formed the basis for the lyrics of the Star Spangled Banner, the national anthem of the United States. The same program also included a $5 gold coin.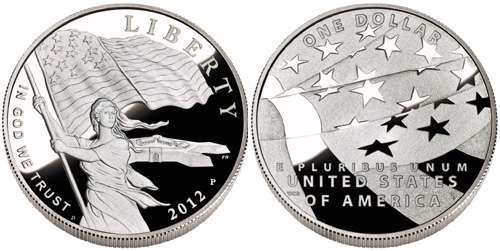 The obverse design for the silver dollar features an image of Liberty waving the 15-star, 15-stripe flag with Fort McHenry shown in the background. Inscriptions include "Liberty", "In God We Trust", and the date "2012". Initially, this design had been intended for potential use on the gold coin, but in reviewing the design candidates, the Citizens Coinage Advisory Committee had made a recommendation that this design would be better suited for the larger sized silver dollar.
On the reverse is an image of the modern American flag waving. The pairing of the Star Spangled Banner flag with the modern 13-stripe, 50-star flag conveys a sense of continuity from the time of the War of 1812 to the present. Inscriptions include "One Dollar", "E Pluribus Unum", and "United States of America".
The coin's obverse was designed by Joel Iskowitz and sculpted by Phebe Hemphill. The reverse was designed by William C. Burgard II and sculpted by Don Everhart.
Sales of the Star Spangled Banner Silver Dollar began at the United States Mint on March 5, 2012. The coins were available in individual proof or uncirculated versions or as included within a two coin proof set, together with the gold coin from the program. The silver dollar was priced at $49.95 for the prof version and $44.95 for the uncirculated version during an introductory period, with regular pricing $5 higher per coin. The two coin proof set had flexible pricing based on the average market price of gold.
The Star Spangled Banner Bicentennial Silver Dollar Set was also offered starting on June 1, 2012. This special set included the proof version of the silver dollar, along with a reproduction of Francis Scott Key's original manuscript for his poem and a historical narrative with artwork depicting the battle between U.S. and British forces at Fort McHenry. The set was limited to 50,000 units and priced at $53.95 each.
The sales price for each product included a surcharge payable to the Maryland War of 1812 Bicentennial Commission to support bicentennial activities, educational outreach, and preservation and improvements to sites and structures.
The maximum mintage for the silver dollars across all product options was 500,000. The final mintage reached 169,981 pieces for the proof version and 41,679 pieces for the uncirculated version.
Coin Specifications
Designer: Joel Iskowitz (obverse), William C. Burgard II (reverse)
Weight: 26.7300 g
Composition: 90% Silver (0.7736 ounces of silver)
Diameter: 38.1 mm
Maximum Authorized Mintage: 500,000
2012-S Uncirculated Star Spangled Banner Silver Dollar
Pre-Issue Price: $44.95
Regular Price: $49.95
Final Mintage: 41,679
2012-P Proof Star Spangled Banner Silver Dollar
Pre-Issue Price: $49.95
Regular Price: $54.95
Final Mintage: 169,981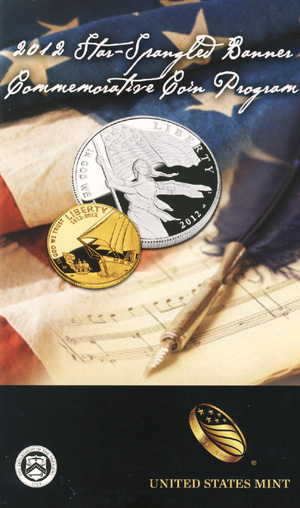 Other 2012 Star Spangled Banner Commemorative Coins