The 2008 Bald Eagle $5 Gold Coin (Buy on eBay) was released as part of a three coin commemorative program to mark the recovery of the Bald Eagle species and the 35th anniversary of the Endangered Species Act of 1973. The other two coins released were a silver dollar and a clad half dollar.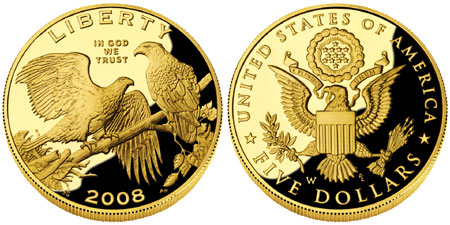 The obverse of the $5 gold coin features two young Bald Eagles within their natural habitat, as designed by Susan Gamble and sculpted by Phebe Hemphill. The inscriptions read "Liberty", "In God We Trust", and the date "2008". The reverse features the current Great Seal of the United States, sculpted by Don Everhart. Inscriptions surrounding the eagle read "United States of America" and "Five Dollars". A ribbon within the eagle's beak includes the motto "E Pluribus Unum".
The Bald Eagle Commemorative Gold Coins were produced in proof and uncirculated versions at the West Point Mint. The coins were sold individually, or as part of a Bald Eagle Commemorative 3 Coin Proof Set, which included proof versions of he $5 gold, silver dollar, and half dollar. The three coin sets had a product limit of 25,000 units and sold out within a month. The $5 gold coins had a maximum authorized mintage of 100,000 coins across all product options.
Prices for the gold coins were at higher levels than previously issued $5 gold commemoratives. This was due to a sharp rise in the underlying price of gold. The US Mint provided introductory pricing for a brief period, after which regular pricing went into effect.
Coin Specifications
Designer: Susan Gamble (obverse), Don Everhart (reverse)
Weight: 8.3590 g
Composition: 90% gold (0.242 ounces of gold)
Diameter: 21.6 mm
Maximum Authorized Mintage: 100,000
2008-W Uncirculated Bald Eagle $5 Gold Coin
Introductory Price: $284.95
Regular Price: $309.95
Final Mintage: 15,009
2008-W Proof Bald Eagle $5 Gold Coin
Pre-Issue Price: $294.95
Regular Price: $319.95
Final Mintage: 59,269
Other 2008 Bald Eagle Commemorative Coins