The 1983 Olympics Commemorative Silver Dollar (Buy on eBay) was issued to celebrate the 1984 Olympic Games held in Los Angeles, California. Notably, this coin was the first commemorative silver dollar produced since 1900. While the denomination was used on only one occasion for the early commemoratives, the silver dollar became a mainstay of modern commemoratives.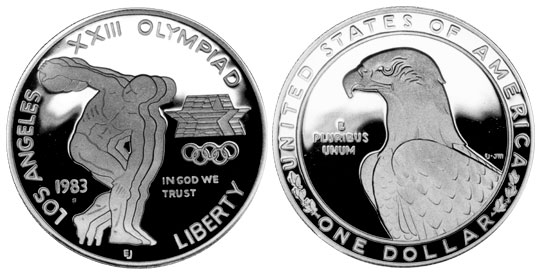 The obverse of the coin features a dramatic depiction of the traditional Greek discus thrower, inspired by the work of Myron. Three outlines are shown to create the impression of motion. To the right, the Olympic "star in motion" symbol appears with the Olympic rings. The reverse of the coin depicts the head and upper body of a bald eagle. The design was by Elizabeth Jones, the Chief Sculptor and Engraver of the United States Mint at the time.
The obverse inscriptions read "Los Angeles", "XXIII Olympiad", "In God We Trust", "Liberty" and the date "1983". The reverse inscriptions include "United Sates of America", "E Pluribus Unum", and the denomination "One Dollar".
The 1983 Olympic Silver Dollar was struck at the Philadelphia, Denver, and San Francisco Mints. This included uncirculated versions from all three mints and a proof version from San Francisco. The proof version and the uncirculated version from Philadelphia were available individually. The uncirculated versions from Denver and San Francisco were available only as part of a three coin uncirculated coin set. The US Mint also offered three and six coin sets incorporating the proof version and Philadelphia uncirculated strike.
Coin Specifications
Designer: Elizabeth Jones
Weight: 26.7300 g
Composition: 90% Silver (0.7736 ounces of silver)
Diameter: 38.1 mm
Maximum Authorized Mintage: 50,000,000 (all commemorative silver dollars for 1983-1984)
1983-P Uncirculated Olympic Silver Dollar
Regular Price: $28
Final Mintage: 294,543
1983-D Uncirculated Olympic Silver Dollar
Regular Price: issued only as part of a three coin set for $89.00
Final Mintage: 174,014
1983-S Uncirculated Olympic Silver Dollar
Regular Price: issued only as part of a three coin set for $89.00
Final Mintage: 174,014
1983-S Proof Olympic Silver Dollar
Pre-issue Price: $24.95
Regular Price: $32.00
Final Mintage: 1,577,025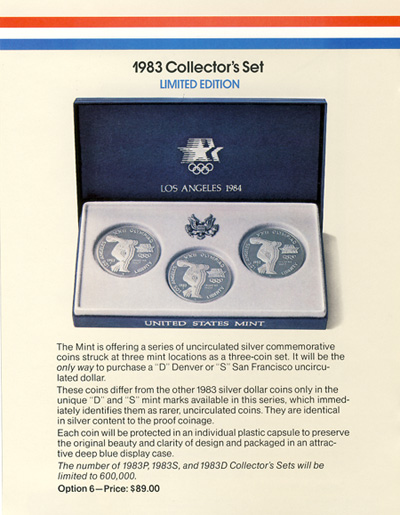 Other 1984 Olympic Commemorative Coins