The 1998 Robert F. Kennedy Silver Dollar (Buy on eBay) was issued to commemorate the life and work of Robert F. Kennedy, authorized under Public Law 103-328. The year of release for the coin took place on the 30th anniversary of his death.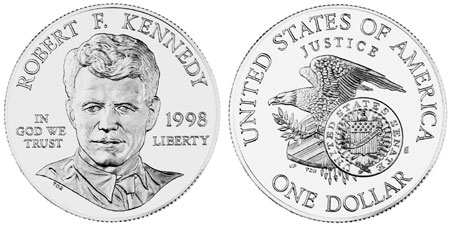 The obverse of the coin features an image of Robert F. Kennedy designed by Thomas D. Rogers, Sr. The inscriptions include "Robert F. Kennedy", "In God We Trust", the date of issue "1998", and "Liberty".
The reverse of the coin, designed by James Peed, includes the Seal of the Department of Justice and the Seal of the United States Senate. Robert F. Kennedy had served as the Attorney General and a New York Senator. The reverse inscriptions include "United States of America", "Justice", and the denomination "One Dollar". The shield includes additional inscriptions "United States Senate" and "E Pluribus Unum" on a banner across the shield.
The Robert F. Kennedy Silver Dollar was produced at the San Francisco Mint, available in proof and uncirculated versions. The coins were sold individually or as a two coin set, containing one of each finish. The United States Mint also offered a Kennedy Collector's Set (Buy on eBay), which included the uncirculated version of the Robert F. Kennedy Silver Dollar and a 1998-S Matte Proof Kennedy Half Dollar. This set, originally priced at $59.95, was very popular with collectors due to the specially issued Kennedy Half Dollar.
The maximum authorized mintage of the RFK silver dollar across all product options was 500,000. Surcharges added to the cost of each coin were intended to be used for the Robert F. Kennedy Memorial. Coins were available for sale from the US Mint from January 2, 1998 to December 31, 1998.
Coin Specifications
Designer: Thomas D. Rodgers, Sr. (obverse), James Peed (reverse)
Weight: 26.7300 g
Composition: 90% Silver (0.7736 ounces of silver)
Diameter: 38.1 mm
Maximum Authorized Mintage: 500,000
1998-S Uncirculated Robert F. Kennedy Silver Dollar
Pre-Issue Price: $30.00
Regular Price: $32.00
Final Mintage: 106,422
1998-S Proof Robert F. Kennedy Silver Dollar
Pre-Issue Price:$33.00
Regular Price: $37.00
Final Mintage: 99,020