The 1984 Olympics Commemorative Silver Dollar (Buy on eBay) was the second coin issued to mark the XXIII Olympiad held in Los Angeles, California. In the prior year, a separate commemorative silver dollar had been issued featuring a discus thrower.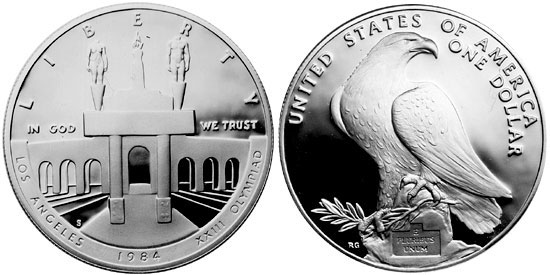 The 1984 coin's obverse depicts the Olympic Gateway, which was the entrance of the Los Angeles Memorial Coliseum. Two headless sculptures appear to either side of an Olympic flame on a lintel. The reverse of the coin depicts a perched bald eagle with an olive branch. The coin was designed by Robert Graham, who had created Olympic Gateway.
The obverse inscriptions include "Liberty", "In God We Trust", "Los Angeles", "XXIII Olympiad", and the date "1984″. The reverse inscriptions include "United Sates of America", the denomination "One Dollar", and at the base of the eagles perch "E Pluribus Unum".
The 1984 Olympic Silver Dollar was produced at all three US Mint facilities. An uncirculated version of the coin was struck at the Philadelphia, Denver, and San Francisco Mints. A proof version of the coin was produced at the San Francisco Mint only. The proof version of the coin and the uncirculated version struck at Philadelphia were available for sale individually. The remaining uncirculated versions were only available as part of a three coin set.
Coin Specifications
Designer: Robert Graham
Weight: 26.7300 g
Composition: 90% Silver (0.7736 ounces of silver)
Diameter: 38.1 mm
Maximum Authorized Mintage: 50,000,000 (all commemorative silver dollars for 1983-1984)
1984-P Uncirculated Olympic Silver Dollar
Regular Price: $28
Final Mintage: 217,954
1984-D Uncirculated Olympic Silver Dollar
Regular Price: issued only as part of a three coin set for $89.00
Final Mintage: 116,675
1984-S Uncirculated Olympic Silver Dollar
Regular Price: issued only as part of a three coin set for $89.00
Final Mintage: 116,675
1984-S Proof Olympic Silver Dollar
Regular Price: $32.00
Final Mintage: 1,801,210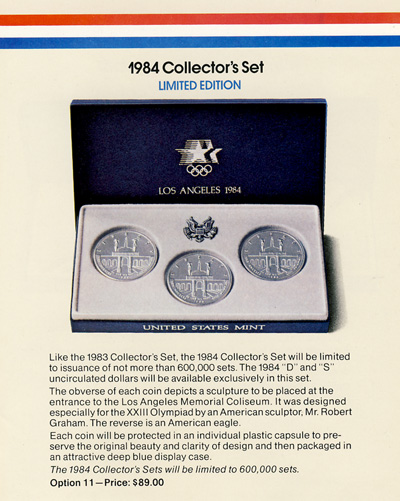 Other 1984 Olympic Commemorative Coins