The 1995 Special Olympics World Games Silver Dollar (Buy on eBay) was issued to honor the competitions created for people with intellectual disabilities. The Special Olympics are focused on developing self confidence, social skills, and a sense of accomplishment for the participants. In 1995, the Special Olympic Games were held in Connecticut.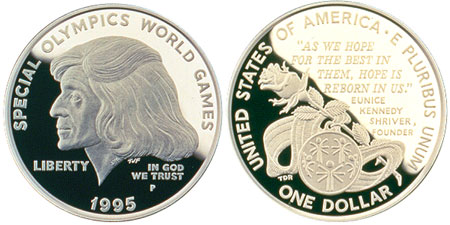 The obverse of the 1995 Special Olympics Dollar features a portrait of Eunice Kennedy Shriver. At the time, she was the first living female depicted on US coinage. On the coin, she is created as the founder of the Special Olympic Games, although some credit Anne Burke and consider the coin inaccurate. The obverse was based on art from Jamie Wyeth, designed and modeled by T. James Ferrell.Inscriptions include "Special Olympics World Games", "Liberty", "In God We Trust", and the date "1995".
The reverse of the coin features a rose, a Special Olympics medal, and a quote from Eunice Shriver which reads, "As we hope for the best in them, hope is reborn in us. – Eunice Kennedy Shriver, Founder". Additional inscriptions read "United States of America", "E Pluribus Unum", and "One Dollar". The reverse was designed by Thomas D. Rogers, Sr.
The 1995 Special Olympics Silver Dollar was issued in both proof and uncirculated versions. The proof coins were minted at Philadelphia and the uncirculated coins were minted at West Point. The maximum authorized mintage across both versions was 800,000. The coins were sold individually, or as a 2 Coin Set, which included the proof silver dollar and a 1995-S Proof Kennedy Half Dollar. A single corporate benefactor reportedly purchased 250,000 coins to save the program from financial loss and embarassment. These coins were later given to Special Olympics athletes in 1998.
Coin Specifications
Designer: T. James Ferrell from Jamie Wyeth art (obverse), Thomas D. Rogers, Sr. (reverse)
Weight: 26.7300 g
Composition: 90% Silver (0.7736 ounces of silver)
Diameter: 38.1 mm
Maximum Authorized Mintage: 800,000
1995-W Uncirculated Special Olympics World Games Silver Dollar
Pre-Issue Price: $30.00
Regular Price: $32.00
Final Mintage: 89,301
1995-P Proof Special Olympics World Games Silver Dollar
Pre-Issue Price:$33.00
Regular Price: $37.00
Final Mintage: 351,764