The 1996 Olympic Soccer Half Dollar (Buy on eBay) was one of four different commemorative half dollar coins issued for the Atlanta XXVI Olympiad Summer Games. The program also included eight different silver dollars and four different $5 gold coins. The large number of coins began to discourage some collectors from commemorative coin collecting.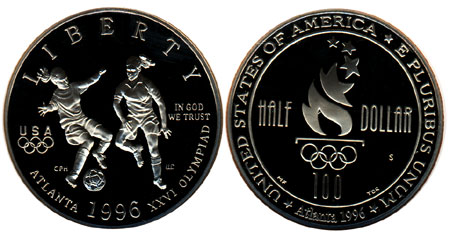 The obverse of the Soccer Half Dollar was designed by Clint Hansen and features two women playing soccer. The inscriptions include "Liberty", "In God We Trust", "Atlanta XXXVI Olympiad", the date "1996" and the Olympics logo.
The reverse design of the coin is the same as used for the 1996 Swimming Half Dollar. It features an arrangement of the Olympic flame, logo, and number "100". This is surrounded by the inscriptions "United States of America", "E Pluribus Unum", and "Atlanta 1996". The denomination "Half Dollar" appears in the center of the coin, split by the Olympic flame.
The 1996 Soccer Half Dollar had a maximum authorized mintage of 3,000,000 coins. Like all issues of the 1995-1996 Olympic Commemorative Coin program, this proved to be overly optimistic. About 165,000 coins were ultimately sold across the proof and uncirculated versions of the coins. This lower sales figure actually worked in the favor of collectors who purchased the coins, as they now carry premiums on the secondary market.
Coin Specifications
Designer: Clint Hansen (obverse), Malcolm Frey (reverse)
Weight: 11.3400 g
Composition: 91.67% copper, 8.33% nickel
Diameter: 30.61 mm
Maximum Authorized Mintage: 3,000,000
1996-S Uncirculated Soccer Half Dollar
Pre-Issue Price: $10.50
Regular Price: $11.50
Final Mintage: 52,836
1996-S Proof Soccer Half Dollar
Pre-Issue Price: $11.50
Regular Price: $12.50
Final Mintage: 112,412