For only the second time the U.S. Mint issued curved-shaped $5 gold commemoratives in 2019 to mark the historic first manned moon landing of Apollo 11. The curved, or convex, obverse of these coins worked very well with the astronaut visor and helmet, as did the concave reverse side with Armstrong's first boot print on the moon.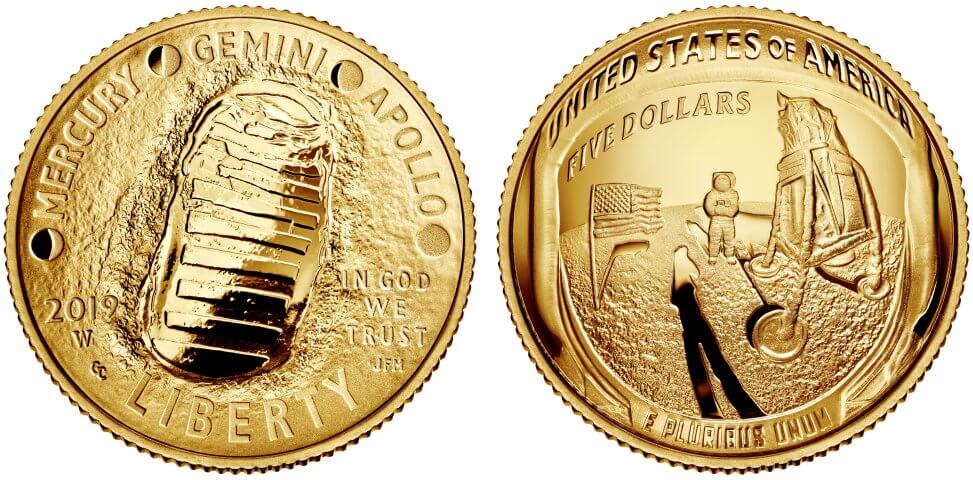 Revenue went to help fund the Smithsonian Institution's Air and Space Museum
The legislation that created this program called for a maximum mintage of 50,000 coins including uncirculated and Proof examples with each coin having a $35 surcharge. Half of those funds, which added up to $9 million for all three coins, went to the Smithsonian Institution's Air and Space Museum for its special exhibit called "Destination Moon" and the rest was split between the Astronaut Memorial Foundation and the Astronaut Scholarship Foundation.
These coins went on sale on January 24th, 2019, and opening sales were 9,066 for the uncirculated coin and 19,812 for the Proof — a strong beginning. The price of each coin was based on the Mint's pricing grid based on the average price of gold each week.
Sales ended on December 27. Final sales for these coins were 12,035 for the uncirculated piece (Buy on eBay) and 32,874 for the Proof coin (Buy on eBay).
Coin Specifications
Designer: Gary Cooper (obverse), Phebe Hemphill (reverse)
Weight: 8.3590 grams
Composition: 90% gold, 10% copper
Diameter: 21.6 mm (.850 inches)
Maximum mintage: 50,000
2017-W Uncirculated Apollo 11 $5 Gold Coin
Original price: varied
Final mintage: 12,035
2017-W Proof Apollo 11 $5 Gold Coin
Original price: varied
Final mintage: 32,874