The 1997 Franklin D. Roosevelt $5 Gold Coin (Buy on eBay) was issued for the 32nd President of the United States. The commemorative coin program was not issued for any particular event or anniversary. Oddly the program only included a $5 gold coin, without any other issues in other denominations or compositions.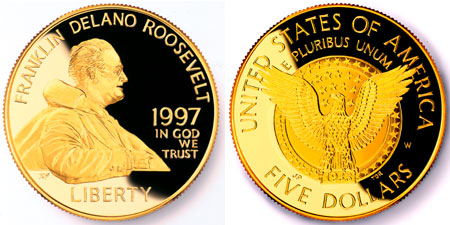 The obverse of the gold coin depicts the upper torso and head of Franklin D. Roosevelt. The was designed by T. James Ferrell based on a photograph of him reviewing the U.S. Navy fleet in San Francisco Bay. Inscriptions include "Franklin Delano Roosevelt", the date "1997", "In God We Trust", and "Liberty".
The reverse of the coin features the Presidential sealed displayed at his 1933 inauguration, designed by James Peed and modeled by Thomas D. Rogers, Sr. The inscriptions include "United States of America" and "Five Dollars".
The Franklin D. Roosevelt $5 Gold Commemorative Coins were produced at the West Point Mint in proof and uncirculated versions. The maximum authorized mintage was 100,000 coins. The coins were sold individually, or as part of a two coin set. Each coin included a surcharge of $35, payable to the Franklin Delano Roosevelt Memorial Commission.
Coin Specifications
Designer: T. James Ferrell (obverse) James Peed (reverse)
Weight: 8.3590 g
Composition: 90% gold (0.242 ounces of gold)
Diameter: 21.6 mm
Maximum Authorized Mintage: 100,000
1997-W Uncirculated Franklin D. Roosevelt $5 Gold Coin
Pre-Issue Price: $180.00
Regular Price: $205.00
Final Mintage: 11,894
1997-W Proof Franklin D. Roosevelt $5 Gold Coin
Pre-Issue Price: $195.00
Regular Price: $225.00
Final Mintage: 29,474