The 1991 Mount Rushmore Silver Dollar (Buy on eBay) was issued for the golden anniversary of the national monument. Under the same program, half dollars and $5 gold coins were also issued. Surcharges raised from the commemorative coin program went to the Mount Rushmore National Memorial Society and the US Treasury.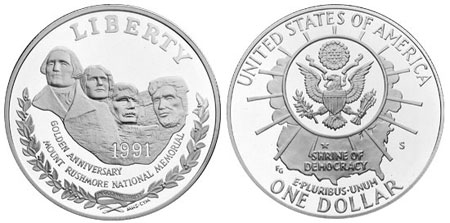 The obverse design of the silver dollar contains a view of Mount Rushmore. The mountainside carving by Gutzon Borglum features busts of Presidents George Washington, Thomas Jefferson, Theodore Roosevelt, and Abraham Lincoln. At the bottom of the coin are two laurel wreaths with a ribbon containing the motto "In God We Trust". Other inscriptions include "Liberty", "Golden Anniversary", "Mount Rushmore National Memorial", and "1991". The obverse was designed by Marika H. Somogyi and modeled by Chester Young Martin.
On the reverse of the coin is the Great Seal of the United States with a sunburst and an outline of the America. There is a star placed at the location of Mount Rushmore with an inscription "Shrine of Democracy". The remaining inscriptions include "United States of America", "E Pluribus Unum", and "One Dollar". The reverse was designed by Frank Gasparro.
A maximum mintage of 2,500,000 was established for the Mount Rushmore Silver Dollar. The coins were available in proof version struck at the San Francisco Mint or uncirculated version struck at the Philadelphia Mint. The US Mint offered the coins for sale individually or as part of various sets incorporating the half dollar and $5 gold coins. Pre-issue discounts were available for a specified period.
Coin Specifications
Designer: Marika Somogyi (obverse), Frank Gasparro (reverse)
Weight: 26.7300 g
Composition: 90% Silver (0.7736 ounces of silver)
Diameter: 38.1 mm
Maximum Authorized Mintage: 2,500,000
1991-P Uncirculated Mount Rushmore Silver Dollar
Pre-Issue Price: $23.00
Regular Price: $26.00
Final Mintage: 133,139
1991-S Proof Mount Rushmore Silver Dollar
Pre-Issue Price: $28.00
Regular Price: $31.00
Final Mintage: 738,419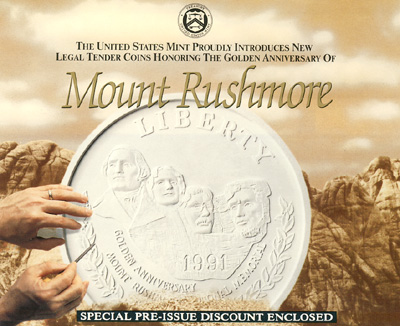 Other 1991 Mount Rushmore Commemorative Coins
1991 Mount Rushmore Memorial Half Dollar
1991 Mount Rushmore Memorial $5 Gold Coin