In 1995, the United States Mint produced and issued the largest number of individual coin designs within the modern commemorative coin era. The flood of new issues was primarily related to the expansive nature of a single program, which spanned two years and included 16 different designs across three denominations.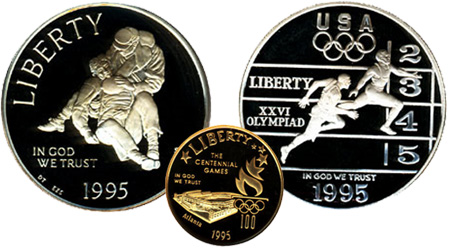 The program to celebrate the Centennial Olympic Games accounted for eight of the twelve different coin issues for the year. Another eight coins for the program would be offered in the following year. The 1995 issues highlighted the torch runner, the stadium where the games were held, and the specific events for basketball, baseball, gymnastics, track and field, cycling, and paralympics.
Other commemorative coin programs for the year featuring the Civil War Battlefields, with designs by an artist known for his battle scenes, and the Special Olympics. The single silver dollar issued for the latter program depicted Eunice Kennedy Shriver, who was living at the time of the release.
View the pages below for more information on the 1995 commemorative coin issues of the United States Mint.