The 1995 Olympic Baseball Half Dollar (Buy on eBay) was issued as one of two commemorative half dollar coins for the Atlanta XXVI Olympiad Summer Games. This was part of a larger two year program that included half dollars, silver dollars, and $5 gold coins.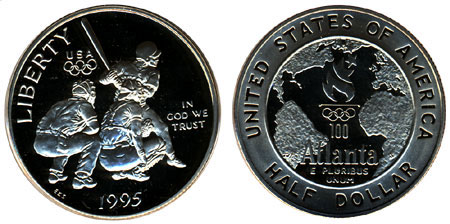 The obverse design of the Baseball Half Dollar features a batter, catcher, and umpire. It was designed by Edgar Z. Steever. The inscriptions include "Liberty", "In God We Trust", the date "1995" and the Olympics logo.
The reverse design is used in common for both Olympic Half Dollars issued in 1995. It features the logo of the Atlanta Committee for the Olympic Games placed in the Atlantic Ocean on a world map. The inscriptions include "United States of America", "Half Dollar", "Atlanta", and "E Pluribus Unum".
The 1995 Olympic Baseball Half Dollar was produced in uncirculated and proof versions at the San Francisco Mint. The coins were offered by the US Mint individually or as part of multi-coin sets with a maximum authorized mintage of 2,000,000 coins. Like most issues of the 1995-1996 Olympic Commemorative Coin Program, this proved to be too optimistic.
Coin Specifications
Designer: Edgar Z. Steever (obverse), T. James Ferrell(reverse)
Weight: 11.3400 g
Composition: 91.67% copper, 8.33% nickel
Diameter: 30.61 mm
Maximum Authorized Mintage: 2,000,000
1995-S Uncirculated Baseball Half Dollar
Pre-Issue Price: $10.50
Regular Price: $11.50
Final Mintage: 164,605
1995-S Proof Baseball Half Dollar
Pre-Issue Price: $11.50
Regular Price: $12.50
Final Mintage: 118,087