In 2018, the United States Mint issued a 3-coin commemorative set to help promote greater awareness about breast cancer. Due to early detection, increased awareness and better treatment for the disease, and thanks to the efforts of people like former First Lady Betty Ford in the 1970s and many other survivors of it to encourage more women to get checked, death rates have been decreasing since about 1989.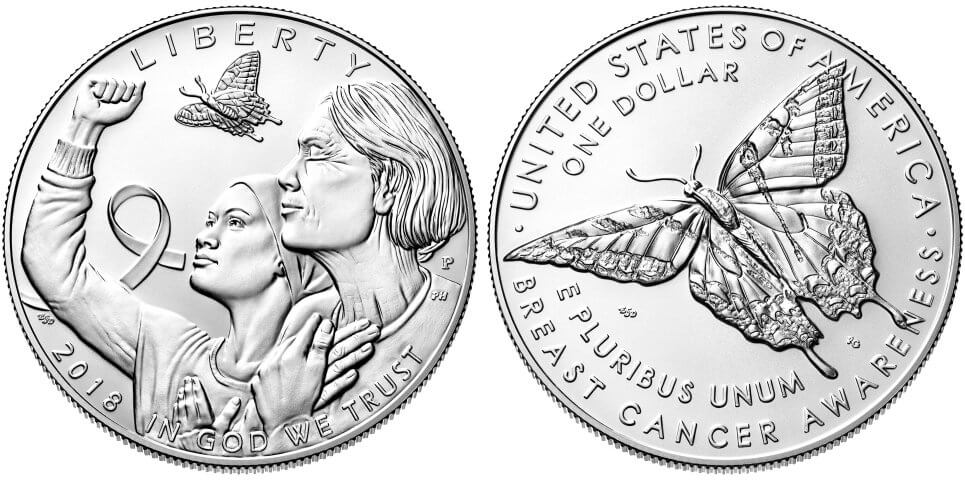 The Breast Cancer Awareness Commemorative Coin Act (Public Law 114-148), signed into law April 29th, 2016, recognizes the millions of Americans who were impacted by the disease and the effort to prevent it through medical research.
The coin program included a silver dollar (Buy on eBay), a $5 gold coin (Buy on eBay) and a clad half dollar (Buy on eBay) with the gold coin being the very first U.S. gold coin with a pink hue. The law also required the designs to be used on all three coins' obverses and reverses be emblematic of the fight against breast cancer and that they be selected through a design competition.
The winning designs, which were evaluated by an expert jury which consisted of members of the Citizens Coinage Advisory Committee and members of the Commission on Fine Arts, were those of U.S.-Canadian artist Emily Damstra, who would later design the new Silver Eagle reverse and other coins.
The obverse design depicts women of two generations — an older woman with her hands on her chest and a relieved expression on her face, and a younger woman with a scarf on her head, holding one hand over her chest and the other raised in a fist as if she is ready to fight for breast cancer awareness or for her own survival against the disease. A butterfly flies above the two women, and there is also a ribbon near the younger female – both motifs being symbols long associated with breast cancer.
Each silver dollar was issued in uncirculated and Proof versions, which each included $10 surcharges, and the maximum authorized mintage across all versions was 400,000. The surcharges were payable to the Breast Cancer Research Foundation.
The coins went on sale on March 15th 2018 with an introductory price of $48.95 for the uncirculated one and $51.95 for the Proof. After April 16th those prices were each increased by $5.
Final sales for the uncirculated version were 12,526 and 39,997 including the 4,455 coin and stamp sets.
Coin specifications
Designer: Emily Damstra
Weight: 26.73 grams
Composition: 90% silver (0.7736 ounces)
Diameter: 38.1 mm
Maximum Authorized Mintage: 400,000
2017-P Uncirculated Breast Cancer Awareness Silver Dollar
Pre-issue price: $48.95
Regular price: $53.95
Final Mintage: 12,526
2017-P Proof Breast Cancer Awareness Silver Dollar
Pre-issue price: $51.95
Regular price: $56.95
Final mintage: 35,542