The 1996 Olympic Flag Bearer $5 Gold Coin (Buy on eBay) was issued as one of sixteen different coins which comprised the XXVI Olympiad Commemorative Coin Program. The Centennial Olympic Games were held in Atlanta, Georgia in 1996. Coins were issued in gold, silver, and copper nickel clad compositions.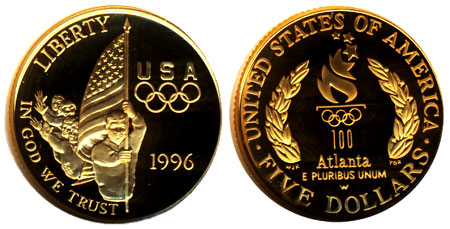 The Olympic Flag Bearer $5 Gold Coin features athletes from America bearing their country's flag as they enter the Olympic Stadium. The obverse inscriptions include "Liberty", "In God We Trust", and the date "1996". The USA Olympic logo also appears in the right field of the coin. The obverse was designed by Patricia L. Verani.
The reverse design of the coin features the mark of the Atlanta Committee for the Olympic Games. It is surrounded by laurel leaves to represent the laurel wreath that was awarded to Greek athletes during the original Olympic Games. The inscriptions read "United States of America", "Five Dollars", "Atlanta", and "E Pluribus Unum". The reverse was designed by William Krawczewicz and used for both of the $5 gold Olympic commemorative coins.
The 1996 Olympic Flag Bearer Gold Coin was produced at the West Point Mint in both proof and uncirculated versions. Despite the tepid sales of the prior year's Olympic $5 gold coins, the maximum authorized mintage was raised to 300,000 coins. The sales figures experienced a decline from the prior year despite the higher authorization. Together with the 1996 Olympic Cauldron $5 Gold, uncirculated version of Flag Bearer coin was the first modern commemorative coin to have a mintage of less than 10,000.
Coin Specifications
Designer: Patricia L. Verani (obverse) William Krawczewicz (reverse)
Weight: 8.3590 g
Composition: 90% gold (0.242 ounces of gold)
Diameter: 21.6 mm
Maximum Authorized Mintage: 300,000
1996-W Uncirculated Flag Bearer $5 Gold Coin
Pre-Issue Price: $229.00
Regular Price: $249.00
Final Mintage: 9,174
1996-W Proof Flag Bearer $5 Gold Coin
Pre-Issue Price: $239.00
Regular Price: $259.00
Final Mintage: 32,886