The 2006 San Francisco Old Mint $5 Gold Coin (Buy on eBay) was issued to mark 100 years after the building survived the 1906 earthquake and fire. As the only financial institution to survive the tragedy, the Old Mint Building played an important role in rebuilding San Francisco as the treasury for disaster relief funds.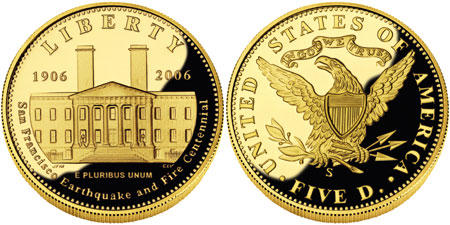 The obverse of the gold coin portrays the portico of the San Francisco Mint, based on an 1869 construction drawing by Supervising Architect A.B. Mullet. The inscriptions read "Liberty", "1906", "2006", "E Pluribus Unum", and "San Francisco Earthquake and Fire Centennial." The reverse of the coin is based on Christian Gobrecht's 1906 Coronet Liberty Half Eagle reverse. Inscriptions read "United States of America" and "Five D." A ribbon above the eagle includes the motto "In God We Trust".
Sales of the San Francisco Old Mint Gold Coins began at the United States Mint on August 15, 2006. Both the proof and uncirculated versions were produced at the San Francisco Mint and carry the "S" mint mark. This represented the first commemorative gold coin minted in San Francisco since the 1984 Olympic $10 Gold Coins.
For the first two months of sales, the coins were available at pre-issue discount pricing, after which regular pricing went into effect. Surcharges added to the cost of each coin were payable to the San Francisco Museum and Historical Society for the rehabilitation of the Old Mint as a city museum and coin and gold rush museum.

Coin Specifications
Designer: Charles Vickers after A.B. Mullet (obverse), Joseph Menna after Christian Gobrecht (reverse)
Weight: 8.3590 g
Composition: 90% gold (0.242 ounces of gold)
Diameter: 21.6 mm
Maximum Authorized Mintage: 100,000
2006-S Uncirculated San Francisco Old Mint $5 Gold Coin
Pre-Issue Price: $220.00
Regular Price: $245.00
Final Mintage: 17,500
2006-S Proof San Francisco Old Mint $5 Gold Coin
Pre-Issue Price: $230.00
Regular Price: $255.00
Final Mintage: 44,174
Other 2006 San Francisco Old Mint Commemorative Coins