The 1984 Olympics Commemorative $10 Gold (Buy on eBay) was part of a trio of coin designs to commemorate the 1984 Olympic Games held in Los Angeles. The other two coins were silver dollars dated 1983 and 1984. Notably, the $10 Gold coin represented the first gold commemorative issued in the United States in more than 50 years.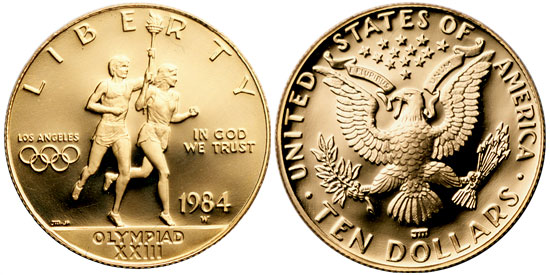 The obverse design of the coin features two Olympic runners holding a torch. The Olympic rings appear to the left. On the reverse, is a rendition of the Great Seal of the United States featuring a heraldic eagle. The eagle holds an olive branch and bundle of arrows in its talons with thirteen stars above. The obverse was designed by John Mercanti after a sketch from James M. Peed. The reverse was designed by John Mercanti.
The obverse inscriptions read "Liberty", "In God We Trust", "Los Angeles", the date "1984", and "Olympiad XXIII" at the base of the coin. The reverse inscriptions include "United Sates of America", the denomination "Ten Dollars", and "E Pluribus Unum" on the banner above the eagle.
The 1984 Olympic $10 Gold Coin was struck at four different U.S. Mint facilities. This included proof versions struck at the Philadelphia, Denver, San Francisco, and West Point Mints, and an uncirculated version struck at the West Point Mint. The gold coins were incorporated as part of various sets, including a six coin 1983-1984 Gold and Silver Set with proof and uncirculated coins, a three coin 1983-1984 Gold and Silver Set with proof coins, and a three coin 1983-1984 Gold and Silver set with uncirculated coins. These sets carried prices of $850.00, $416.00, and $395.00 respectively. Each of the gold coins was also offered individually.
Coin Specifications
Designer: John Mercanti and James M Peed (obverse), John Mercanti (reverse)
Weight: 16.7180 g
Composition: 90% Gold (0.4837 ounces of gold)
Diameter: 27 mm
Maximum Authorized Mintage: 2,000,000 (across all options)
1984-W Uncirculated Olympic $10 Gold
Regular Price: $339.00
Final Mintage: 48,551
1984-P Proof Olympic $10 Gold
Regular Price: $352.00
Final Mintage: 33,309
1984-D Proof Olympic $10 Gold
Regular Price: $352.00
Final Mintage: 34,533
1984-S Proof Olympic $10 Gold
Regular Price: $352.00
Final Mintage: 48,551
1984-W Proof Olympic $10 Gold
Regular Price: $352.00
Final Mintage: 381,085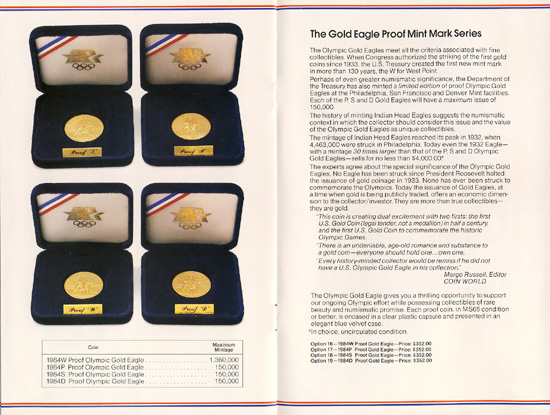 Other 1984 Olympics Commemorative Coins
1983 Olympic Silver Dollar
1984 Olympic Silver Dollar