Following the overabundance of commemorative coins issued in previous years, new rules were adopted which would only allow the approval of a maximum of two programs for each year. This would serve to reduce the number of coins issued, although certain programs could contain multiple coins.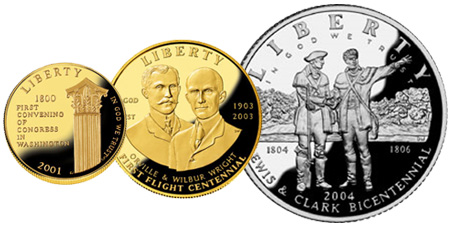 In 2001, the US Mint issued one of their most popular commemoratives to mark the opening of the National Museum of the American Indian at the Smithsonian Institution. The designs from the collector favorite Buffalo Nickel were used for the obverse and reverse of the silver dollar, leading to a prompt sell out. The other program for the year was issued for the Capitol Visitor Center and is notable for the low mintage uncirculated $5 gold coin.
In the following years, programs would honor or celebrate the Winter Olympics held in Salt Lake City, the bicentennial of West Point Military Academy, and the Wright brothers historic first flight. In 2004, silver dollars would be issued for the inventor Thomas Edison and explorers Lewis and Clark.
View the pages listed below for additional information about each of the commemorative coins issued between 2001 and 2004.