Authorized by Public Law 116-65, the 2021 Christa McAuliffe silver dollar was issued to honor McAuliffe and six astronauts who perished 35 years ago when the Space Shuttle Challenger tragically exploded after launch. McAuliffe was a former social studies teacher who was selected in 1985 to be the first member of NASA's Teacher in Space program.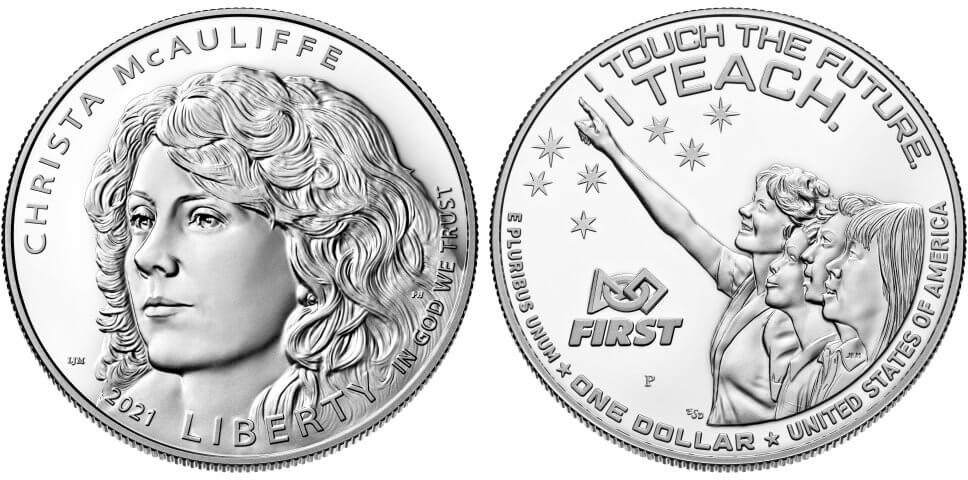 Sales of these coins went on sales on January 28, 2021 and were priced at $69 for the uncirculated coin and $74 for the Proof, which each increased by $5 on March 1.
Each coin (Buy on eBay) included a $10 surcharge that was to be paid to the FIRST robotics program to help engage young people with mentor programs and encourage them to become leaders in science, technology, engineering and mathematics. Each year over a million children from the U.S. and 86 countries participate in FIRST.
The obverse design by Laurie Musser and sculpted by Phebe Hemphill features a left-facing portrait of McAuliffe with a hopeful look on her face.
The reverse designed by Emily Damstra and sculpted by Joseph Menna shows her as a teacher, smiling as she points forward and upward towards the nearby stars. Three high school students standing next to her look upwards in wonder of space. There are exactly seven stars on the upper left portion under the inscription "I Touch the Future. I Teach," which pay tribute to McAuliffe and the seven astronauts killed on January 28, 1986.
Coin Specifications
Designer: Laurie Musser (obverse), Emily Damstra (reverse)
Weight: 26.73 grams
Composition: 0.999 fine silver
Diameter: 38.1 mm (1.5 inches)
Maximum authorized mintage: 350,000
2020-P Uncirculated Christa McAuliffe Silver Dollar
Pre-issue price: $69.00
Regular price: $74.00
Final mintage: 16,044
2020-P Proof Christa McAuliffe Silver Dollar
Pre-issue price: $74.00
Regular price: $79.00
Final mintage: 54,230