The 2006 Old San Francisco Mint Silver Dollar (Buy on eBay) was issued along with a $5 gold coin to mark the centennial of the building's survival of the 1906 earthquake and fire. The so-called "Granite Lady" was also viewed as instrumental in helping the city recover following the disaster.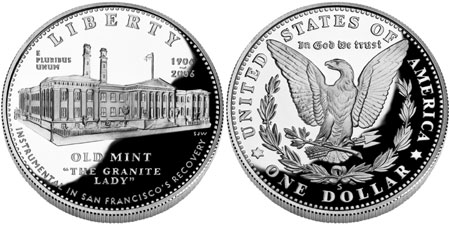 The silver dollar features the Old San Francisco Mint from the left corner of the building. The design was originally portrayed on a medal designed by Sheryl J. Winter. The inscriptions read "Liberty", "E Pluribus Unum", the dual dates "1906 – 2006", "Old Mint The Granite Lady", and "Instrumental in San Francisco's Recovery".
The reverse of the coin is a copy of the reverse design of the Morgan Dollar, which was issued from 1878 to 1921 and produced for many years at the San Francisco Mint. A new model was created by Joseph Menna for the original by George T. Morgan design. The reverse inscriptions include "United States of America", "In God We Trust", and "One Dollar".
US Mint sales for the Old San Francisco Mint Dollars began on August 15, 2006. Proof and uncirculated versions were offered individually. The proof version of the coin was also included in the 2006 United States Mint American Legacy Collection, which was priced at $135 and limited to 50,000 units.
Surcharges added to the cost of each commemorative coin were distributed to the San Francisco Museum and Historical Society for the rehabilitation of the Old Mint as a city museum and coin and gold rush museum.
Coin Specifications
Designer: Sheryl Winter (obverse), Joseph Menna after George T. Morgan (reverse)
Weight: 26.7300 g
Composition: 90% Silver (0.7736 ounces of silver)
Diameter: 38.1 mm
Maximum Authorized Mintage: 500,000
2006-S Uncirculated San Francisco Old Mint Silver Dollar
Pre-Issue Price: $33.00
Regular Price: $35.00
Final Mintage: 67,100
2006-S Proof San Francisco Old Mint Silver Dollar
Pre-Issue Price:$35.00
Regular Price: $39.00
Final Mintage: 160,870
Other 2006 San Francisco Old Mint Commemorative Coins