The 1993 Bill of Rights $5 Gold Coin (Buy on eBay) was issued for James Madison and the Bill of Rights. The commemorative coin program included a silver half dollar and silver dollar coin, in addition to the gold coin. The designs for these coins were actually the result of a nationwide competition launched by the U.S. Treasurer.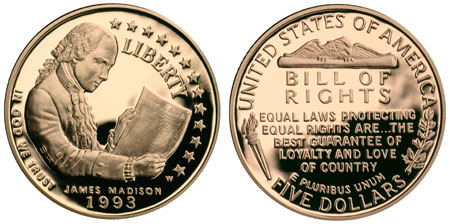 The obverse of the gold coin features James Madison studying a copy of the Bill of Rights. He is pictured from the waist up in profile. The reverse of the coin features a quote from James Madison. Smaller design elements are pictured around the quote, including a torch, an eagle with a scroll, and an olive branch. The obverse designer was Scott R. Blazek and the reverse designer was Joseph D. Pena.
The obverse inscriptions of the coin are "In God We Trust", "Liberty", "James Madison", and the date of mintage "1993". The reverse of the coin includes "United States of America", "Bill of Rights", "E Pluribus Unum", "Five Dollars", and the James Madison quote "Equal laws protecting equal rights are… the best guarantee of loyalty and love of country."
The 1993 James Madison Gold Coin was offered in uncirculated or proof version, with both versions produced at the West Point Mint. The maximum mintage was established at 300,000 coins, at the time representing the lowest limit established for a $5 gold commemorative coin.
The gold coins were sold individually, as part of a three-coin proof set, three-coin uncirculated set, or comprehensive six-coin set which included one of each version of the Bill of Rights Commemorative Coins. Initially coins were available at a pre-issue discount price, after which regular prices were put into effect.
Coin Specifications
Designer: Scott R. Blazek (obverse), Joseph D. Pena (reverse)
Weight: 8.3590 g
Composition: 90% gold (0.242 ounces of gold)
Diameter: 21.6 mm
Maximum Authorized Mintage: 300,000
1992-W Uncirculated Bill of Rights $5 Gold Coin
Pre-Issue Price: $175.00
Regular Price: $205.00
Final Mintage: 23,266
1992-W Proof Bill of Rights $5 Gold Coin
Pre-Issue Price: $185.00
Regular Price: $220.00
Final Mintage: 78,651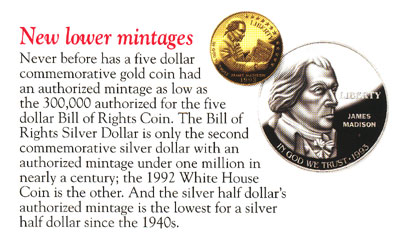 Other 1993 Bill of Rights Commemorative Coins
1993 Bill of Rights Half Dollar
1993 Bill of Rights Silver Dollar