The 1994 Vietnam Veterans Memorial Silver Dollar (Buy on eBay) was issued under one of three similarly themed commemorative coin programs. The other two programs featured Women in Military Service Memorial and Prisoners of War Memorial. This coin was issued to mark the 10th anniversary of the dedication of the Vietnam Veterans Memorial Wall in Washington, DC. Surcharges raised from the sale of coins went to an endowment for the repair and maintenance of the Wall.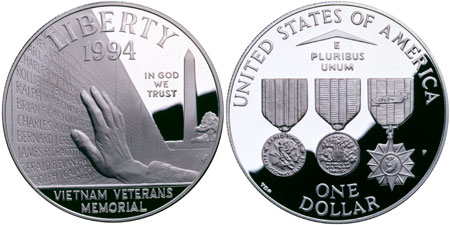 The obverse design features a hand touching the Memorial Wall. The Washington Monument can be seen in the background of the scene. This was designed by John Mercanti. The reverse design features three military ribbons, as designed by Thomas D. Rogers Sr.
The obverse coin inscriptions include "Liberty", the date "1994", "In God We Trust", and the caption "Vietnam Veterans Memorial". The reverse coin inscriptions include "United States of America", "E Pluribus Unum", and the denomination "One Dollar".
The 1994 Vietnam Veterans Memorial Silver Dollars were minted in uncirculated version at the West Point Mint and in proof version at the Philadelphia Mint. The maximum authorized mintage across both options was 500,000, which was not reached. The coins were offered for sale individually, or as part of three coin sets which included the other two "Memorial" Silver Dollars. The coins were initially offered at pre-issue discount prices, before regular pricing went into effect.
Coin Specifications
Designer: John Mercanti (obverse), Thomas D. Rogers Sr. (reverse)
Weight: 26.7300 g
Composition: 90% Silver (0.7736 ounces of silver)
Diameter: 38.1 mm
Maximum Authorized Mintage: 500,000
1994-W Uncirculated Vietnam Veterans Memorial Silver Dollar
Pre-Issue Price: $27.00
Regular Price: $32.00
Final Mintage: 57,290
1994-P Proof Vietnam Veterans Memorial Silver Dollar
Pre-Issue Price: $31.00
Regular Price: $35.00
Final Mintage: 227,671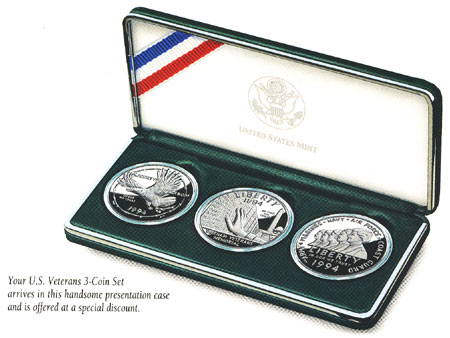 Other 1994 Veterans Commemorative Coins
1994 POW Memorial Silver Dollar
1994 Women in Military Service Silver Dollar