The 1994 World Cup Half Dollar (Buy on eBay) was issued to celebrate the XV FIFA World Cup Soccer playoff games held in the United States. As part of the same commemorative coin program, a $5 gold coin and silver dollar were also issued.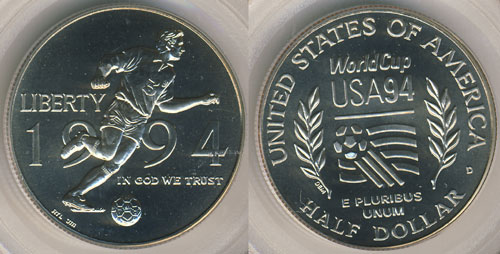 The obverse of the half dollar features a soccer player moving down the field with the ball. The date "1994" is displayed prominently in the background of the player. The obverse was designed by Richard T. LaRoche. The reverse of the coin features the official World Cup logo surrounded by laurel branches. This was designed by Dean McMullen.
The inscriptions on the obverse of the coin include "Liberty", "In God We Trust", and the date "1994" in large numerals placed in the background. The reverse inscriptions include "United States of American", "E Pluribus Unum", and "Half Dollar". Incorporated into the logo are the words "World Cup USA 94".
The 1994 World Cup Commemorative Half Dollar was issued in proof and uncirculated versions, with the former minted in San Francisco and the latter minted in Philadelphia. The coins carried a maximum authorized mintage of 5 million coins. The coins were offered individually, within a Young Collector's Set, or as part of two different two and three coin sets or a six-coin set.
Coin Specifications
Designer: Richard T. LaRoche (obverse), Dean McMullen (reverse)
Weight: 11.3400 g
Composition: 91.67% copper, 8.33% nickel
Diameter: 30.61 mm
Maximum Authorized Mintage: 5,000,000
1994-D Uncirculated World Cup Half Dollar
Pre-Issue Price: $8.75
Regular Price: $9.50
Final Mintage: 168,208
1994-P Proof World Cup Half Dollar
Pre-Issue Price: $9.75
Regular Price: $10.50
Final Mintage: 609,354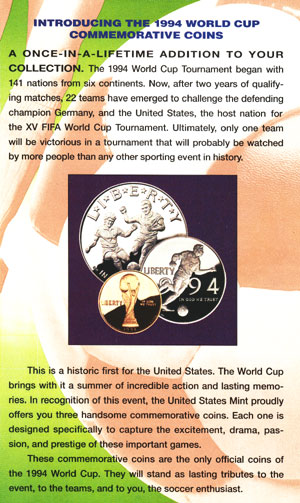 Other 1994 World Cup Commemorative Coins