The 1999 Yellowstone National Park Silver Dollar (Buy on eBay) was issued to mark the 125th anniversary of the park's establishment by Congress in 1872. The actual anniversary year occurred two years earlier. Surcharges added to the cost of each coin were used for the Yellowstone National Park and the National Park Foundation.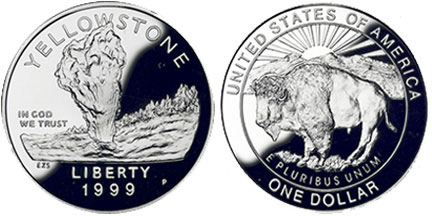 The obverse of the coin depicts one of the geysers of the park as designed by Edgar Z. Steever IV. This is not identified as the famous "Old Faithful" since the landscape is different. The inscriptions include "Yellowstone", "In God We Trust", "Liberty", and the date of issue "1999". The coin's reverse is adapted from the seal of the Department of the Interior by William C. Cousins. An American Bison is depicted facing left with the rising sun in the background. The inscriptions include "United States of America", "E Pluribus Unum", and the denomination "One Dollar".
The Yellowstone Silver Dollars were produced at the Philadelphia Mint in proof and uncirculated formats. The coins were sold individually, or as a two coin set. Pricing initially reflected a pre-issue discount, after which point regular pricing went into effect. On a combined basis, the US Mint sold just over 50% of the maximum authorized mintage of 500,000 coins. The sales period was from July 16, 1999 to July 15, 2000.
Coin Specifications
Designer: Edgar V. Steever IV (obverse), William C. Cousins (reverse)
Weight: 26.7300 g
Composition: 90% Silver (0.7736 ounces of silver)
Diameter: 38.1 mm
Maximum Authorized Mintage: 500,000
1999-P Uncirculated Yellowstone National Park Silver Dollar
Pre-Issue Price: $30.00
Regular Price: $32.00
Final Mintage: 82,563
1999-P Proof Yellowstone National Park Silver Dollar
Pre-Issue Price:$33.00
Regular Price: $37.00
Final Mintage: 187,595