The 2010 Boy Scouts Centennial Silver Dollar (Buy on eBay) was issued to celebrate the 100th anniversary of the founding of the Boy Scouts of America. A commemorative coin program was also subsequently authorized for the Girl Scouts of the United States of America, with the coins issued in 2013.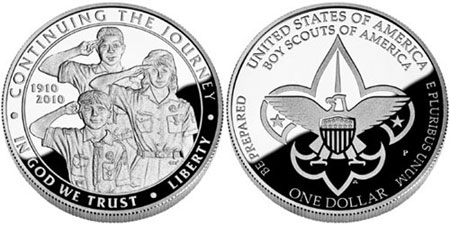 The obverse of the Boy Scouts coin features an image of a Cub Scout, Boy Scout, and a female member of the Venturer Program saluting. The centennial years of "1910" and "2010" are included, along with the additional inscriptions "Continuing the Journey", "In God We Trust", and "Liberty". The obverse was designed by Donna Weaver and engraved by Charles Vickers.
The reverse of the coin features the universal logo of the Boy Scouts of America. The reverse inscriptions include "United States of America", "Boy Scouts of America", the organization motto "Be Prepared", "E Pluribus Unum", and the denomination "One Dollar". The reverse of the silver dollar was engraved by Jim Licaretz.
The design of this coin was criticized by some collectors for its inclusion of a female. This design was specifically advocated by the organization in order to reflect the diversity of the nation and how the Boy Scouts had evolved over time to include all of the youth of America. Alternative designs had highlighted the continuity of the organization with images of a 1910 scout and a modern day scout. Ultimately, a design was chosen in accordance with the preference of the organization.
The Boy Scouts of America Centennial Silver Dollar was issued in proof and uncirculated versions struck at the Philadelphia Mint. The maximum mintage was established at 350,000 coins across both options. Introductory pricing was in place from the start of sales on March 23, 2010 until April 21, 2010, after which time regular pricing went into effect. In the opening week of sales, the US Mint sold a combined 214,673 coins, with the issue eventually selling out of its entire authorized mintage.
A surcharge of $10 was included within the price of each coin, payable to the Boy Scouts of America Foundation. The funds collected were used by local councils for the extension of funding to hard to serve areas.
Coin Specifications
Designer: Donna Weaver (obverse), Jim Licaretz (reverse engraver)
Weight: 26.7300 g
Composition: 90% Silver (0.7736 ounces of silver)
Diameter: 38.1 mm
Maximum Authorized Mintage: 350,000
2010-P Uncirculated Boy Scouts Silver Dollar
Pre-Issue Price: $33.95
Regular Price: $35.95
Final Mintage: 105,020
2010-P Proof Boy Scouts Silver Dollar
Pre-Issue Price: $39.95
Regular Price: $43.95
Final Mintage: 244,963