The 1999 George Washington $5 Gold Coin (Buy on eBay) was issued for the 200th anniversary of the death of George Washington. Interestingly, he had been depicted on the first modern commemorative issued in 1982, to commemorate the 250th anniversary of his birth.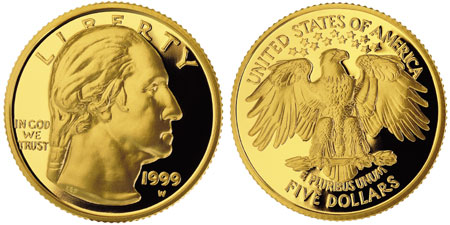 The design of the George Washington $5 Gold Commemorative carries a unique origin. It was originally created by Laura Garden Fraser as a candidate design for the 1932 Washington Quarter. Her proposed design had been favored by the Commission of Fine Arts, but was passed over by Treasury Secretary Andrew Mellon who selected a designed by John Flanagan. Recent research suggests that the Treasury Secretary made his choice because he did not want a woman to design the new quarter.
The obverse features a portrait of George Washington based on a bust modeled in 1785 by Jean Antoine Houdon. Inscriptions include "Liberty", "In God We Trust", and the date of issue "1999". The reverse of the coin features a perched eagle with thirteen stars above and inscriptions "United States of America", "E Pluribus Unum", and the denomination "Five Dollars".
The George Washington $5 Gold Coin was offered in proof and uncirculated versions, struck at the West Point Mint. The maximum authorized mintage across both options was 100,000 coins. Initially the coins were sold at pre issue discount prices, after which regular pricing went into effect. The US Mint offered the coins individually, or as a two coin set, containing both the proof and uncirculated version.
The coins were available for sale from May 1, 1999 to November 3,1 1999. A portion of the proceeds benefited the Mount Vernon Ladies' Association.
Coin Specifications
Designer: Laura Garden Fraser
Weight: 8.3590 g
Composition: 90% gold (0.242 ounces of gold)
Diameter: 21.6 mm
Maximum Authorized Mintage: 100,000
1999-W Uncirculated George Washington $5 Gold Coin
Pre-Issue Price: $180.00
Regular Price: $205.00
Final Mintage: 22,511
1999-W Proof George Washington $5 Gold Coin
Pre-Issue Price: $195.00
Regular Price: $225.00
Final Mintage: 41,693