The 1997 Jackie Robinson $5 Gold Coin (Buy on eBay) has the distinction of being the lowest mintage of all modern commemorative coins, making it the key date of the entire series. This refers to the uncirculated version, which had a mintage of just 5,174 coins.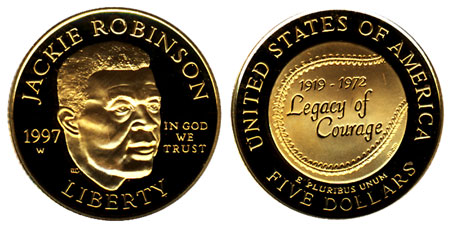 The Jackie Robinson Commemorative coins were issued to commemorate the 50th anniversary of the first acceptance of a black player in a major league baseball game.
The obverse of the gold coin features a portrait of Robinson in his older years, when he was active in civil rights politics. The inscriptions read "Jackie Robinson", the date "1997", "In God We Trust", and "Liberty". The reverse of the coin features a baseball with the words "Legacy of Courage" and the dates of his birth and death "1919-1972". Additional inscriptions read "United States of America", "E Pluribus Unum", and "Five Dollars".
The Jackie Robinson $5 Gold Commemorative Coin was available in proof or uncirculated versions with a maximum authorized mintage of 100,000 coins. Collectors ultimately purchased 24,072 proof coins and 5,174 uncirculated coins. Due to the relatively disappointment sales results, an attempt was made to extend the sales offering period, but the proposal was rejected. The coins had been available for sale from August 16, 1997 to August 16, 1998.
The United States Mint offered a 2 coin set with the proof $5 gold and silver dollar, a 4 coin set with proof and uncirculated versions of each coin, and a Legacy Set, which included a baseball card, pin, and the $5 gold coin.
Coin Specifications
Designer: T. James Ferrell (obverse), James Peed (reverse)
Weight: 8.3590 g
Composition: 90% gold (0.242 ounces of gold)
Diameter: 21.6 mm
Maximum Authorized Mintage: 100,000
1997-W Uncirculated Jackie Robinson $5 Gold Coin
Pre-Issue Price: $180.00
Regular Price: $205.00
Final Mintage: 5,174
1997-W Proof Jackie Robinson $5 Gold Coin
Pre-Issue Price: $195.00
Regular Price: $225.00
Final Mintage: 24,072