The United States Modern Commemorative Coin program began in 1982. That year, the US Mint released commemorative half dollar coins to celebrate the 250th anniversary of the birth of George Washington. Since that date, commemorative coins have been issued nearly every year to celebrate famous American people, places, events, and institutions. The wide range of subject matters and the diversity of designs make commemorative coins popular with collectors.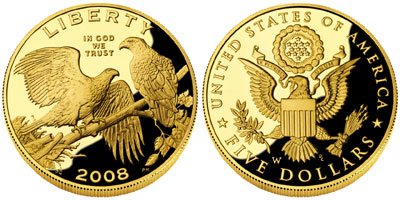 Each commemorative coin program is authorized under an Act of Congress. The Act typically specifies the subject to be commemorated, the denomination of coins to be issued, and the maximum authorized mintage for each. Additionally, most commemorative coin programs include surcharges added to the cost of each coin, which will be distributed to specified beneficiary organizations or fund projects that benefit the community.
Modern Commemoratives have been issued in five different sizes over the years. The United States Mint has issued gold coins with denominations of $5 or $10. The specifications of these coins match the classic circulating gold half eagle and eagle coins, with a composition of 90% gold and a net weight of .2418 ounces and .4837 ounces of gold, respectively. Silver coins have been issued matching the specifications of classic circulating half dollars and silver dollars. Finally, half dollars have been issued with a copper-nickel clad composition matching the modern specifications.
Although commemorative coins are legal tender, they are not minted for general circulation. The United States Mint sells the commemorative coins to the public at fixed prices, which cover the costs of designing, minting, marketing and distributing the coins, as well as include the surcharges allocated to the beneficiary organizations or programs. The coins are generally offered at a pre-issue discount price for the first month of sales, and then regular prices for the remaining sales period. Most commemoratives are typically only available during the calendar year or issue.
Over the course of the Modern Commemorative Coin program, the popularity of coins has fluctuated with the subject matter, trends in collecting, and precious metals prices. Many of the commemorative coins issued in the 1980's achieved high sales levels due to the pent up demand for such collectibles. In subsequent years, popular subject matter drove higher sales for issues such as the 2001 American Buffalo Silver Dollar and 2005 Marine Corps Silver Dollars. In more recent years, the US Mint has utilized specialized minting techniques or special sets to drive demand. The recently issued 2015 Baseball Hall of Fame Commemorative Coins featured an innovative domed shape.
This site provides collectors with a look at each of the modern commemorative coins issued by the United States Mint from 1982 to present. Background information and design descriptions are available for each coin, along with original release information, specifications, and final mintage figures. We hope this site can serve as a valuable resource as you assemble your collection.