The Modern Commemorative Coin program for United States coins began in 1982. That year, the US Mint released commemorative half dollar coins to celebrate the 250th anniversary of the birth of George Washington. Since that date, commemorative coins have been issued nearly every year to celebrate famous American people, places, events, and institutions.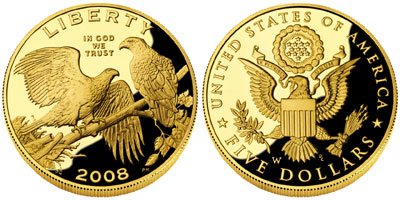 Modern Commemoratives have been issued in five different sizes over the years. The first coin issued was a 90% silver half dollar. The US Mint later issued most 90% silver commemoratives as $1 Silver Dollars. $10 gold coin have been issued, struck in 90% gold with a net weight of .4837 ounces of pure gold. There have been $5 gold coins issued also struck in 90% gold, but with a net weight of .2418 ounces of gold. Finally, clad half dollars have been issued with a composition of 92% copper and 8% nickel.
Although commemorative coins are legal tender, they are not minted for general circulation. The United States Mint sells the commemorative coins to the public at prices which include surcharges which are allocated to certain programs. Coins are generally offered at a pre-issue discount price for the first month of sales, and then regular prices for the remaining sales period. Most commemoratives are available only during a certain calendar year.
The popularity of commemorative coins generally fluctuates with the subject matter. When popular subjects are portrayed, commemorative coin sales are generally higher, often reaching the maximum authorized mintage. In recent years, the 2001 American Buffalo Commemorative and 2006 Benjamin Franklin Commemorative coins have been popular enough to sell out.
The US Mint issued commemorative coins based on authorization from Congress. Two commemorative coin programs are approved for each year. This year will feature the 2010 Boy Scouts Centennial Commemorative and 2010 American Veterans Disabled for Life Commemorative coin programs.