The 1991 USO Silver Dollar (Buy on eBay) was released to mark the 50th anniversary of the United Service Organization. The USO is a nonprofit, non government supported organization that was founded in 1941 to provide morale and entertainment for members of the U.S. military.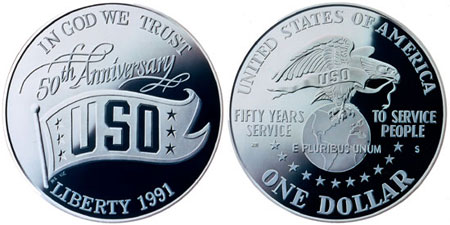 The obverse design for the coin features a pennant based on the design of the USO flag. Written above in calligraphy is "50th Anniversary". The remaining inscriptions include "In God We Trust", "Liberty", and the date "1991". The obverse was modeled by William C. Cousins and designed by Robert Lamb.
On the reverse, is the image of an eagle perched on a globe. The eagle has a ribbon in its beak containing the incused letters "USO". There are eleven stars in a semi-circle below the globe and the inscription "E Pluribus Unum" across the globe. The remaining inscriptions include "United States of America", "Fifty Years Service", "To Service People", and "One Dollar". The reverse was designed by John Mercanti.
A maximum mintage of one million coins was established for the 1991 USO Silver Dollar. Proof versions were struck at the San Francisco Mint, while uncirculated versions were struck at the Denver Mint. The coins were officially launched on June 8, 1991 during a victory parade for troops returning from operation Desert Storm. The cost of each coin included a surcharge, half went to the USO to fund its programs and the other half was used to reduce the national debt.
Coin Specifications
Designer: Robert Lamb (obverse), John Mercanti (reverse)
Weight: 26.7300 g
Composition: 90% Silver (0.7736 ounces of silver)
Diameter: 38.1 mm
Maximum Authorized Mintage: 1,000,000
1991-D Uncirculated USO Silver Dollar
Pre-Issue Price: $23.00
Regular Price: $26.00
Final Mintage: 124,958
1991-S Proof USO Silver Dollar
Pre-Issue Price: $28.00
Regular Price: $31.00
Final Mintage: 321,275