The 1996 Smithsonian 150th Anniversary Silver Dollar (Buy on eBay) was issued to commemorate the establishment of the Smithsonian Institution by Congress on August 10, 1846. As a point of interest to collectors, at the time of issue the Smithsonian held the National Numismatic Collection, which contains over one million items.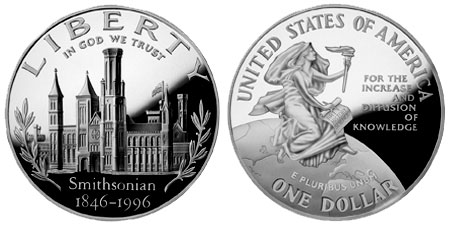 The obverse of the Smithsonian Silver Dollar depicts the "Castle" building located on the Mall in Washington, D.C. with laurel leaves to each side. This was the first Smithsonian Institution building. The inscriptions read "Liberty", "In God We Trust", "Smithsonian", and the dates "1846-1996". The obverse was designed by Thomas D. Rogers, Sr.
The reverse of the coin depicts an allegorical goddess sitting on top of a globe. She carries the torch of knowledge and holds a scroll with the words "art, history and science". Additional inscriptions read "United States of America", "E Pluribus Unum", "One Dollar", and "For the increase and diffusion of knowledge". The reverse was designed by John Mercanti.
The 1996 Smithsonian Silver Dollar was offered in proof and uncirculated versions. The proof coins were minted in Philadelphia and the uncirculated coins were minted in Denver. Despite a high level of appreciation for the coin by collectors, sales were lack luster after recent years of commemorative coin over saturation. The US Mint offered the coins individually, within two-coin or four-coin sets, and as a Young Collectors Set containing the proof silver dollar. Initially coins were priced at a pre-issue discount, after which regular pricing went into effect. The extremely low mintage of the uncirculated version of the coin resulted in higher prices on the secondary market.
Coin Specifications
Designer: Thomas D. Rogers, Sr. (obverse), John Mercanti (reverse)
Weight: 26.7300 g
Composition: 90% Silver (0.7736 ounces of silver)
Diameter: 38.1 mm
Maximum Authorized Mintage: 650,000
1996-D Uncirculated Smithsonian 150th Anniversary Silver Dollar
Pre-Issue Price: $30.00
Regular Price: $32.00
Final Mintage: 31,320
1996-P Proof Smithsonian 150th Anniversary Silver Dollar
Pre-Issue Price:$33.00
Regular Price: $37.00
Final Mintage: 129,152