The United States Mint issued three coins as part of a program to recognize and celebrate the 5-Star Generals of the United States Army. The release of the coins would also coincide with the 132nd anniversary of the founding of the United States Army Command and General Staff College. Two of the five individuals to hold this distinction were featured on a clad composition half dollar.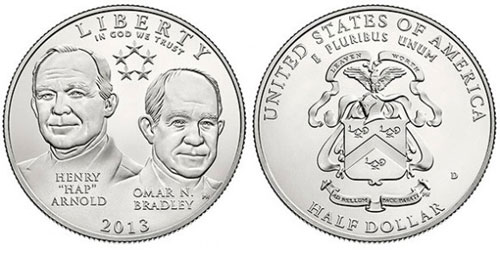 The 2013 5 Star Generals Half Dollar (Buy on eBay) featured portraits Generals Henry Arnold and Omar N. Bradley with the five star insignia at center. Inscriptions included "Liberty", "In God We Trust", "Henry Hap Arnold", "Omar N. Bradley", and "2013". The obverse was designed and sculpted by Phebe Hemphill.
The reverse design of the coin featured the heraldic crest of Fort Leavenworth with inscriptions "United States of America", "E Pluribus Unum", and "Half Dollar". Phebe Hemphill also designed and sculpted the reverse.
On March 21, 2013, the United States Mint officially began sales of the 5-Star Generals Clad Half Dollars. The coins were available individually in either proof or uncirculated versions. During an introductory period the coins were priced at $16.95 for the uncirculated version and $17.95 for the proof version. After April 19, 2013, regular price went into effect, resulting in prices of $20.95 for the uncirculated and $21.95 for the proof.
Later in the year, on August 5, 2013, the Mint also offered the 2013 5-Star Generals Profile Collection. This special product included the uncirculated half dollar and silver dollar from the program, along with a bronze replica of the 1962 General Douglas MacArthur Congressional Gold Medal. The coins and medal were mounted in easel-like packaging containing informative profile cards for each general. The set was priced at $74.95 and limited to 50,000 units.
Across all product options, the clad half dollars were limited to a maximum mintage of 750,000 pieces. Following the recent trend for modern commemorative half dollars, sales were considerably lower. At the conclusion of sales, the final mintages for the half dollars tallied 38,095 uncirculated coins and 47,326 proof coins.
Coin Specifications
Designer: Phebe Hemphill (obverse & reverse)
Weight: 11.3400 g
Composition: 91.67% copper, 8.33% nickel
Diameter: 30.61 mm
Maximum Authorized Mintage: 750,000
2013-P Uncirculated 5 Star Generals Half Dollar
Pre-Issue Price: $16.95
Regular Price: $20.95
Final Mintage: 38,095
2013-S Proof 5 Star Generals Half Dollar
Pre-Issue Price: $17.95
Regular Price: $21.95
Final Mintage: 47,326
Other 2013 5-Star Generals Commemorative Coins
2013 5-Star Generals Silver Dollar
2013 5-Star Generals $5 Gold Coin