The obverse of the 2022 National Purple Heart Hall of Fame clad half dollar shows a figure in military fatigues and combat boots using a pair of crutches. The left leg has been amputated from the thigh down. The negative space below shows the missing leg in silhouette. The Purple Heart medal appears behind the figure, and the inscription "ALL GAVE SOME" appears below the composition.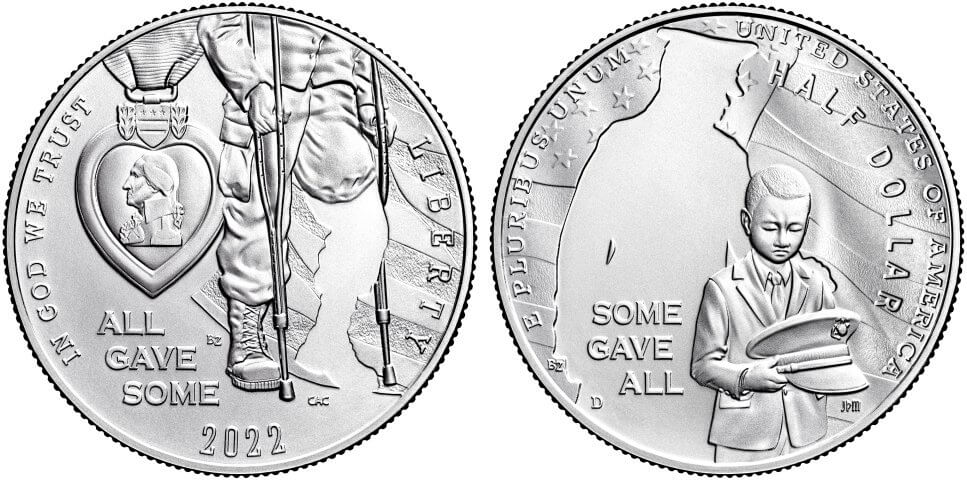 The background field has a subtle flag motif. The reverse features a young boy holding the dress cap of an enlisted Marine. The silhouette of a Marine in dress blues stands behind him in negative space, emphasizing the loss that affects the families of Purple Heart recipients. The inscription "SOME GAVE ALL" is featured in the negative space around the boy in the lower half. The obverse's field flag motif is used as background.
Sales for the uncirculated (Buy on eBay) and Proof versions (Buy on eBay) of this coin opened on February 24 when the coins were priced at $33 and $35 respectively, which was increased by $5 on March 24.
The Proof coin was also included in the three-coin Proof set along with the silver dollar and $5 gold coin.
Opening sales were 6,258 for the uncirculated coin and 10,360 for the Proof plus 2,447 in the sets.
As of June 12, cumulative sales were 11,177 and 18,536 respectively plus 4,178 Proofs in the sets.
Each coin included a $5 surcharge payable to the National Purple Heart Hall of Fame.
Coin Specifications
Designer: Craig Campbell (obverse), Beth Zaiken (reverse)
Weight: 11.340 grams
Composition: 9.33% nickel, 90.67% copper
Diameter: 30.607 mm (1.205 inches)
Maximum authorized mintage: 750,000
2019-D National Purple Heart Hall of Fame Clad Half Dollar
Pre-issue price: $33.00
Regular price: $38.00
Final mintage: TBD
2019-S National Purple Heart Hall of Fame Clad Half Dollar
Pre-issue price: $35.00
Regular price: $40.00
Final mintage: TBD