The 1995 Civil War Battlefields Silver Dollar (Buy on eBay) was to commemorative 100 years of Civil War battlefields preservation. This is dated from the establishment of the Gettysburg National Military Park in 1895. The silver dollar commemorative was issued along with a $5 gold and clad half dollar coin to round out the program.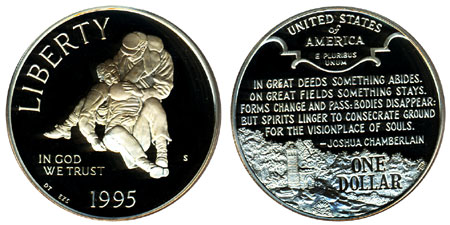 The obverse of the silver dollar features a soldier offering a canteen to another wounded soldier. This was designed by Don Troiani, an artist known for his depictions of battle scenes. The reverse features the Gettysburg landscape and a quote from Joshua Chamberlain, who fought in the battle. This was designed by John Mercanti.
The inscriptions on the obverse include "Liberty", "In God We Trust", and the date "1995". The majority of the reverse is taken up by this quote: "In great deeds something abides. On great fields something stays. Forms change and pass, bodies disappear, but spirits linger to consecrate ground for the visionplace of souls." – Joshua Chamberlain" Other reverse inscriptions read "United States of America", "E Pluribus Unum", and "One Dollar".
Proof and uncirculated versions of the 1995 Civil War Battlefields Silver Dollar were issued, with the proof coins minted at San Francisco and the uncirculated coins minted at Philadlephia. There was a maximum authorized mintage of 1 million coins, which was not met. The coins were sold individually, as multi coin sets with other Civil War Battlefields Commmoratives, and included in the annual Prestige Proof Set.
Coin Specifications
Designer: Don Troiani (obverse), John Mercanti (reverse)
Weight: 26.7300 g
Composition: 90% Silver (0.7736 ounces of silver)
Diameter: 38.1 mm
Maximum Authorized Mintage: 1,000,000
1995-P Uncirculated Civil War Battlefields Silver Dollar
Pre-Issue Price: $27.00
Regular Price: $29.00
Final Mintage: 45,866
1995-S Proof Civil War Battlefields Silver Dollar
Pre-Issue Price: $30.00
Regular Price: $34.00
Final Mintage: 437,114