The 1988 Olympic Silver Dollar (Buy on eBay) was issued to commemorate the participation of the United States in the 1988 Summer Olympic Games in Seoul, Korea. A portion of the purchase price of each coin was paid to the United States Olympic Committee to support training of American athletes.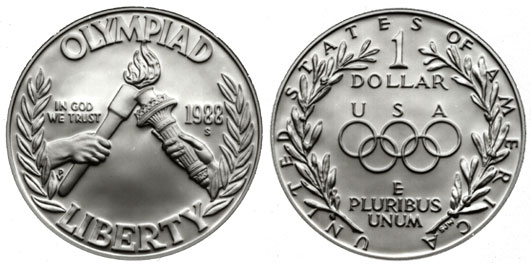 The obverse design for the coin features one hand holding the Statue of Liberty's torch and the other holding an Olympic torch. The two flames merge together with olive branches framing the scene. The inscriptions "Olympiad" and "Liberty" appear above and below, with "In God We Trust" and the date "1988" to each side. The obverse was designed by Patricia Lewis Verani.
On the reverse, the Olympic rings appear centrally with "USA" above and another pair of olive branches framing the scene. The inscription "United States of America" appears widely spaced around the edge of the coin. The denomination is expressed as "1 Dollar" and "E Pluribus Unum" appears near the base. The reverse was designed by Sherl Joseph Winter.
The maximum authorized mintage for the 1988 Seoul Olympics Silver Dollar was 10 million pieces. The final mintage did not come close to reaching this amount, with a final tally of around 1.55 million. The uncirculated version was minted at the Denver Mint and carried the "D" mint mark. The proof version was minted in San Francisco and carried the "S" mint mark. Two coin sets containing the silver dollar and $5 gold were issued in proof and uncirculated, as well as a four coin set with all versions.
Coin Specifications
Designer: Patricia Lewis Verani (obverse), Sheryl Joseph Winter (reverse)
Weight: 26.7300 g
Composition: 90% Silver (0.7736 ounces of silver)
Diameter: 38.1 mm
Maximum Authorized Mintage: 10,000,000
1988-D Uncirculated Olympic Silver Dollar
Pre-Issue Price: $22.00
Regular Price: $27.00
Final Mintage: 191,368
1988-S Proof Olympic Silver Dollar
Pre-Issue Price: $23.00
Regular Price: $29.00
Final Mintage: 1,359,366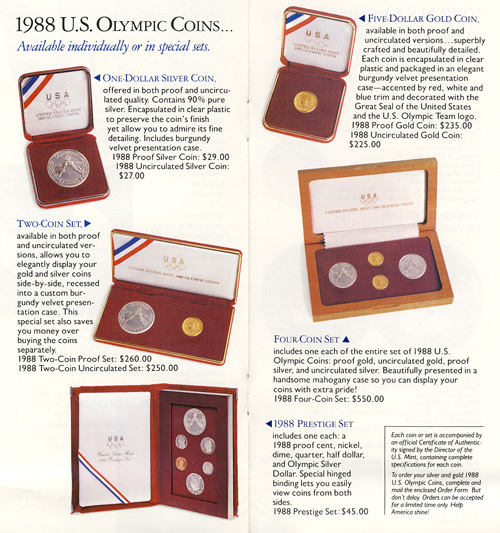 Other 1988 Olympic Commemorative Coins