For a second year collectors were faced with an outpouring of commemorative coins from the United States Mint. For 1996, there were a total of eleven different coin designs, each issued in proof and uncirculated formats. The coins were issued across three different programs.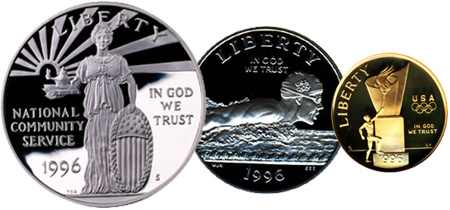 The most expansive program was to celebrate the Centennial Olympic Games. Following the eight different designs issued in the previous year, were another eight different issues. By this time, orders from collectors had dwindled resulting in extremely poor sales. This in turn would result in several low mintage rarities, which would experience dramatic secondary market price appreciation in later years.
A single silver dollar was issued for National Community Service. Notably, an old design prepared by Augustus Saint Gaudens was used, providing a significant point of interest for some collectors. The final program was issued for the 150th anniversary of the Smithsonian Institution, with silver dollar and $5 gold coins issued.
The pages below provide additional information and release details for the US Mint's 1996 commemorative coins.