The obverse design of the $5 gold American Legion 100th anniversary coin commemorates the debut of the American Legion and its mission to serve the country and its war veterans. The design combines an outer geometric rim from the American Legion emblem with the Eiffel Tower and "V" for victory to symbolize the organization's founding in Paris, France at the end of World War I. This side was designed by Phebe Hemphill and sculpted by Chris Costello.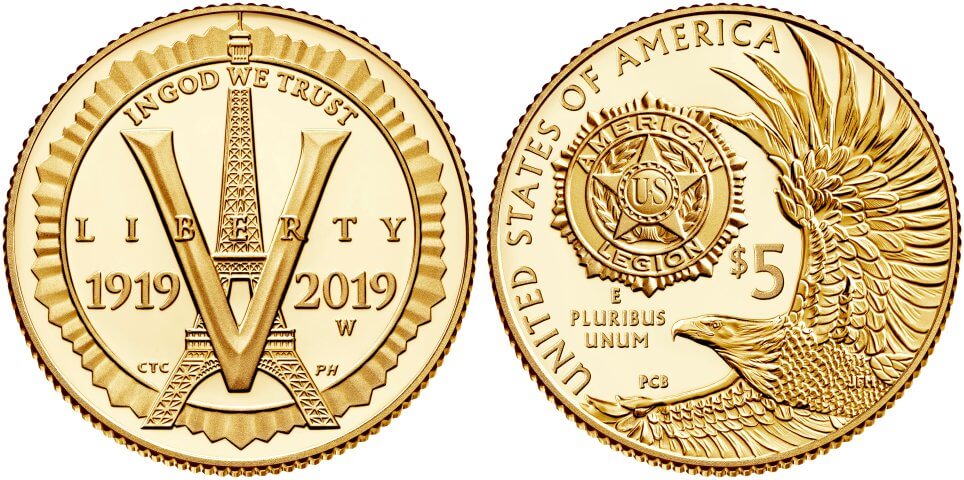 The reverse features a soaring eagle – which has long been a symbol of the United States whether it was at war or peace – with its wings spread very wide plus the American Legion emblem above it. This side was designed by Joseph Menna and sculpted by Paul C. Balan.
These coins went on sale on March 20 and each coin carried a $35 surcharge payable to the American Legion to further its mission of supporting members of the Armed Forces and their families.
Opening sales were 1,501 for the uncirculated version and 1,675 for the Proof, which was also offered as part of a three-coin American Legion Proof set along with Proof examples of the silver dollar and half dollar coins. Initial sales of the sets were 5,152. On April 15 the price of both coins, which is based on the Mint's pricing grid for gold products that varies by week, was increased by $5.
Final sales were 3,090 for the mint state coins (Buy on eBay), and 10,643 for the Proof (Buy on eBay), including 3,192 single coins and 7,451 in the sets.
Coin Specifications
Designer: Phebe Hemphill (obverse), Joseph Menna (reverse)
Weight: 8.3590 grams
Composition: 90% gold, 10% copper
Diameter: 21.6 mm (.850 inches)
Maximum mintage: 50,000
2017-W Uncirculated American Legion $5 Gold coin
Original price: varied
Final mintage: 3,090
2017-W Proof American Legion $5 Gold coin
Original price: varied
Final mintage: 10,643*
*Includes 7,451 coins sold in the American Legion three-coin Proof set.