The 1992 Olympic Silver Dollar (Buy on eBay) was issued for the XXV Olympic Games held in Barcelona, Spain and Albertville and Savoie, France. Surcharges raised from the sale of the clad, silver, and gold commemorative coins included in the program were used to help train American athletes.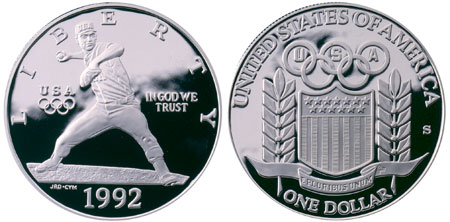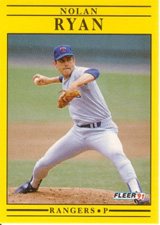 The obverse design of the silver dollar features a baseball player throwing a pitch. The image is remarkably similar to an image of Nolan Ryan which appeared on a 1991 Fleer baseball card. The designer of the coin John R. Deecken denied that there was any connection. Inscriptions on the obverse include "Liberty", "In God We Trust", "1992", and "USA" with the Olympic rings.
The reverse features the Union Shield with olive branches to each side and the Olympic rings placed above. A banner beneath the shield and across the olive branches includes the motto "E Pluribus Unum". The remaining inscriptions are "United States of America" above and "One Dollar" below. The reverse was designed by Marcel Jovine.
Notably, the coin features edge lettering. "XXV Olympiad" is written four times around the edge against a reeded background. This is the first time edge lettering had been used for a commemorative coin issue of the United States.
The 1992 Olympics Silver Dollar was released in both uncirculated and proof versions, produced at the Denver and San Francisco Mints, respectively. The coins were available in 2 coin proof or uncirculated sets, 3 coin proof or uncirculated sets, or a complete 6 coin set which included all 1992 Olympic Commemorative coin issues. A pre-issued discount price was available before regular pricing went into effect.
Coin Specifications
Designer: John R. Deecken (obverse), Marcel Jovine (reverse)
Weight: 26.7300 g
Composition: 90% Silver (0.7736 ounces of silver)
Diameter: 38.1 mm
Maximum Authorized Mintage: 4,000,000
1992-D Uncirculated Olympic Silver Dollar
Pre-Issue Price: $24.00
Regular Price: $29.00
Final Mintage: 187,552
1992-S Proof Olympic Silver Dollar
Pre-Issue Price: $28.00
Regular Price: $32.00
Final Mintage: 504,505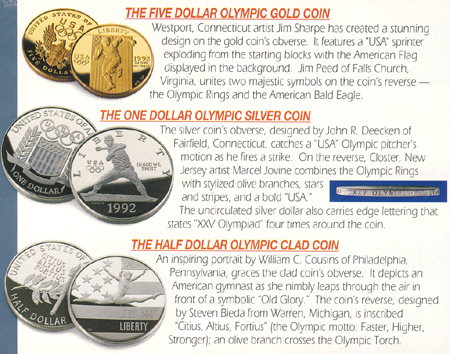 Other 1992 Olympics Commemorative Coins