The clad half dollar to mark the 50th anniversary of the Apollo 11 moon landing featured the same designs as the other coins in this program. (Buy on eBay)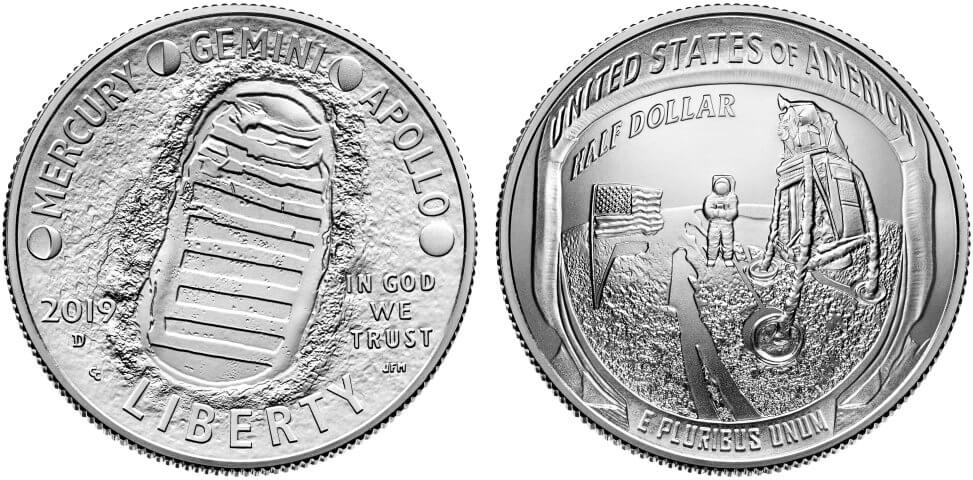 Each coin included a $5 surcharge whose proceeds were divided between three entities with half going to the Smithsonian's National Air and Space Museum for an exhibit on the moon landing, and the other half split between the Astronaut Memorial Foundation, which helps preserve the legacy of astronauts, and the Astronaut Scholarship Foundation, which provides scholarships to study science and math.
The uncirculated version was struck at the Denver Mint, while the Proofs were struck at the San Francisco Mint
The Proof coin was also offered in a special Apollo 11 Half Dollar set (Buy on eBay) that also included an Enhanced Uncirculated Kennedy half dollar only available in that set and limited to 100,000 units. The sets were priced at $53.95 and were housed in an attractive folder.
Sales opened on January 24 with the mint state coin priced at $25.95 and the Proof at $27.95. After February 25 those prices each increased by $5.
Opening sales for the half dollar set were 69,155. This was the only product that completely sold out with sales of 99,998.
Coin Specifications:
Designer: Gary Cooper (obverse), Phebe Hemphill (reverse)
Weight: 11.340 grams
Composition: 9.33% nickel, 90.67% copper
Diameter: 30.607 mm (1.205 inches)
Maximum authorized mintage: 750,000
2019-D Uncirculated Apollo 11 Clad Half Dollar
Pre-issue price: $25.95
Regular price: $30.95
Final mintage: 41,738
2019-S Proof Apollo 11 Clad Half Dollar
Pre-issue price: $27.95
Regular price: $32.95
Final mintage: 166,811*
*Includes 99,998 sold in the 2019 Apollo 11 Half Dollar Set