The second commemorative coin program in 2017 after the Lions Club silver dollar was the Boys Town centennial program that was authorized under Public Law 114-30 that was signed into law on July 6, 2015. The program commemoratives the 100th anniversary of the founding of Boys Town on December 12, 1917 by a young parish priest named Father Edward Flanagan.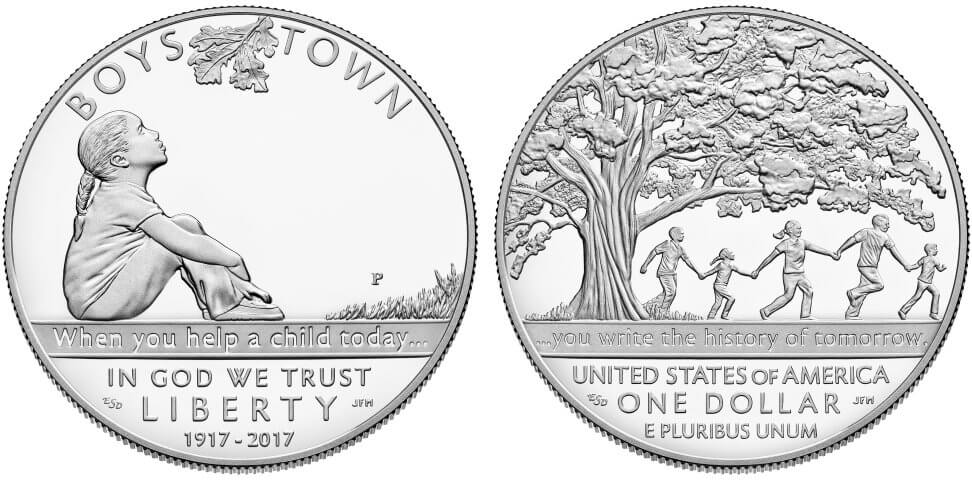 Starting off with virtually no resources and just his firm belief that any child could became a productive citizen if they were given love, a home, an education and a trade, Flanagan rented a boarding house for boys that became known as Boys Town. Today it is one of the country's largest non-profit organizations that serves over 2 million at-risk children and their families each year, focusing on treatment for behavioral, emotional and physical problems of children and families.
The authorizing law called for the striking of up to 50,000 $5 gold coins, 350,000 silver dollars and 300,000 clad half dollars for this program.
Sales began on March 9, 2017 with a ceremony held on Capitol Hill to officially kick off the program.
The Boys Town Centennial silver dollar obverse shows a young girl sitting alone and looking up at the oak tree branches in search of help. The large empty space, known as negative space by coin designers, is intentional and symbolizes the child's sense of loneliness, isolation and helplessness.
The reverse of the coin features a very large oak tree that offers shelter and a sense of belonging to a family that is holding each other's hands below the tree, including the girl seen on the obverse.
This coin was designed was Artistic Infusion Program artist Emily Damstra and sculpted by then Medallic Artist Joseph Menna.
It was sold initially for $46.95 for the uncirculated version (Buy on eBay) and $47.95 for the Proof (Buy on eBay). The introductory sales period ended April 10 when prices were increased to $51.95 and $62.95. Both were struck at the Philadelphia Mint.
Each silver dollar included a $10 surcharge that once all costs were recouped by the Mint would be paid to Bows Town to help it carry out its mission of serving underserved children and families across the U.S.
Final sales were 12,234 for the mint state coin and 26,085 for the Proof.
Coin Specifications
Designer: Emily Damstra (obverse), Emily Damstra (reverse)
Weight: 26.73 grams
Composition: 90% silver (0.7736 ounces)
Diameter: 38.1 mm
Maximum Authorized Mintage: 350,000
2017-P Uncirculated Boys Town Centennial Silver Dollar
Pre-issue price: $46.95
Regular price: $51.95
Final Mintage: 12,234
2017-P Proof Boys Town Centennial Silver Dollar:
Pre-issue price: $47.95
Regular price: $52.95
Final mintage: 26,085