The 1993 Bill of Rights Silver Dollar (Buy on eBay) was issued in honor of James Madison and the Bill of Rights which he authored. The date of release bore no particular relationship to Madison or the Bill or Rights, which was added to the Constitution in 1789. However, some references will state that the coins were issued to mark the Bicentennial, which occurred four years earlier.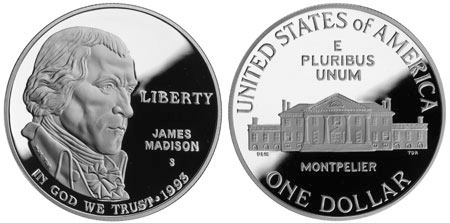 The obverse of the silver dollar coin features a portrait of James Madison and the reverse features a view of his Virginia home, Montpelier. Interestingly, the design makes no reference to the Bill of Rights. The obverse was designed by William Krawczewicz of the Bureau of Engraving and Printing, and the reverse was designed by Dean McMullen.
The obverse inscriptions read "Liberty", "James Madison", "In God We Trust", and the date "1993". The reverse inscriptions include "United States of America", "E Pluribus Unum", "Montpelier", and the denomination "One Dollar".
The 1993 Bill of Rights Silver Dollars were offered in both proof and uncirculated versions with a maximum authorized mintage of 900,000 coins across both options. The Denver Mint produced the uncirculated version and the San Francisco Mint produced the proof version. Coins were sold individually or as part of two-coin or three-coin sets, and a complete six-coin set, which included all commemorative coins issued for the Bill of Rights.
Coin Specifications
Designer: William Krawczewicz (obverse), Dean McMullen (reverse)
Weight: 26.7300 g
Composition: 90% Silver (0.7736 ounces of silver)
Diameter: 38.1 mm
Maximum Authorized Mintage: 900,000
1993-D Uncirculated Bill of Rights Silver Dollar
Pre-Issue Price: $22.00
Regular Price: $27.00
Final Mintage: 98,383
1993-S Proof Bill of Rights Silver Dollar
Pre-Issue Price: $25.00
Regular Price: $29.00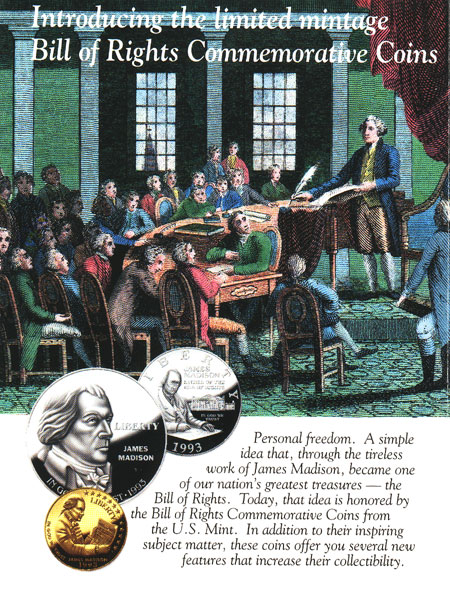 Other 1993 Bill of Rights Commemorative Coins
1993 Bill of Rights Half Dollar
1993 Bill of Rights $5 Gold Coin