The 1996 Olympic Rowing Silver Dollar (Buy on eBay) was issued as part of an extensive program of commemorative coins for the Centennial Olympic Games held in Atlanta, Georgia. The program included sixteen coins minted in clad, silver, and gold, released over the course of two years.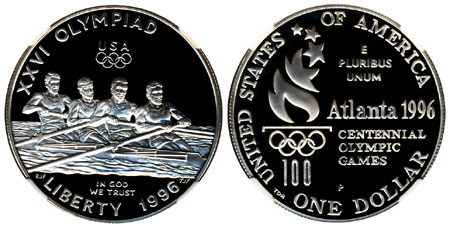 The obverse of the Rowing Silver Dollar features four men rowing as designed by Bart Forbes. The inscriptions read "XXVI Olympiad", "In God We Trust", "Liberty", the date "1996", and the Olympic logo.
The reverse of the coin features the mark of the Atlanta Committee for the Olympic Games with numerous inscriptions. This designed from Thomas D. Rogers was used for all of the 1996 Olympic Silver Dollars issued. The inscriptions include "E Pluribus Unum", "Atlanta 1996", "Centennial Olympic Games", "United States of America", and "One Dollar".
The 1996 Rowing Silver Dollar was produced in uncirculated version at the Denver Mint and proof version at the Philadelphia Mint. Across both versions, the mintage was limited to 1,000,000 coins. Similar to other coins of the program, the Rowing Silver Dollar achieved only a fraction of this amount. The coins were offered individually, or as part of several different multi-coin sets produced by the United States Mint.
Coin Specifications
Designer: Bart Forbes (obverse), Thomas D. Rogers (reverse)
Weight: 26.7300 g
Composition: 90% Silver (0.7736 ounces of silver)
Diameter: 38.1 mm
Maximum Authorized Mintage: 1,000,000
1996-D Uncirculated Rowing Silver Dollar
Pre-Issue Price: $27.95
Regular Price: $31.95
Final Mintage: 16,258
1996-P Proof Rowing Silver Dollar
Pre-Issue Price: $30.95
Regular Price: $34.95
Final Mintage: 151,890