The 1997 National Law Enforcement Officers Memorial Silver Dollar (Buy on eBay) was issued on the sixth anniversary of the dedication of the memorial, which honors more than 14,000 men and women who lost their lives in the line of duty.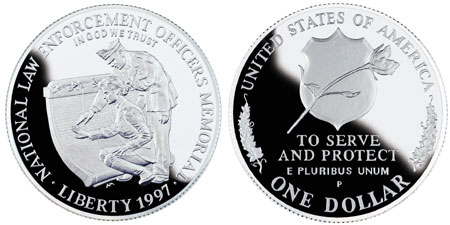 The obverse of the coin depicts two Park police officers making a rubbing of a fallen officer's name. This was designed by Alfred Maletsky based on a photography by Larry Ruggieri. The inscriptions include "National Law Enforcement Officers Memorial", "In God We Trust", "Liberty" and the date "1997".
The reverse of the coin features a shield with a rose across it to represent the sacrifices made by the officers. Inscriptions include "United States of America", "To Serve and Protect", "E Pluribus Unum", and the denomination "One Dollar".
The 1997 Law Enforcement Silver Dollars were produced at the Philadelphia Mint in proof and uncirculated versions. The maximum authorized mintage was 500,000, but final sales registered at less than 25% of this amount. The US Mint offered the coins for sale individually or within a special insignia set, which included the silver dollar, a lapel pin, and a patch. Surcharges added to the cost of each coin were used for preservation of the memorial. The coins were originally available for sale from September 19, 1997 to December 15, 1998.
Coin Specifications
Designer: Alfred Maletsky
Weight: 26.7300 g
Composition: 90% Silver (0.7736 ounces of silver)
Diameter: 38.1 mm
Maximum Authorized Mintage: 500,000
1997-P Uncirculated National Law Enforcement Officers Memorial Silver Dollar
Pre-Issue Price: $30.00
Regular Price: $32.00
Final Mintage: 28,575
1997-P Proof National Law Enforcement Officers Memorial Silver Dollar
Pre-Issue Price:$33.00
Regular Price: $37.00
Final Mintage: 110,428