The 1995 Civil War Battlefields $5 Gold Coin (Buy on eBay) was issued together with a silver dollar and half dollar coin to commemorative the 100th anniversary of Civil War battlefields preservation. The Gettysburg National Military Park had been established 100 years ago in 1895. The obverse of each coin for the program was designed by Don Troiani, a private sector artist known for depicting battle scenes.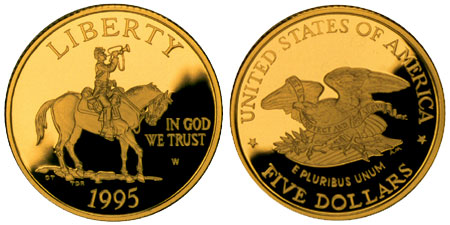 The $5 gold coin featured a bugler mounted on horseback. The reverse features an eagle perched on a shield. The obverse was designed by Don Troiani and the reverse was designed by Alfred Maletsky.
The obverse inscriptions read "Liberty", "In God We Trust", and the date "1995". The reverse features only the required inscriptions "United States of America", "E Pluribus Unum", and "Five Dollars". The other Civil War Battlefields commemoratives feature lengthier reverse inscriptions.
The 1995 Civil War Battlefields $5 Gold was produced in proof or uncirculated version at the West Point Mint. The maximum authorized mintage was 300,000, but less than 80,000 coins were sold. The coins were offered individually, or as part of three-coin and six-coin sets, together with the silver dollar and half dollar from the same program. Surcharges raised from the sale of coins were paid to the Civil War Trust for the preservation of historically significant battlefields.
Coin Specifications
Designer: Don Troiani (obverse), Alfred Maletsky (reverse)
Weight: 8.3590 g
Composition: 90% gold (0.242 ounces of gold)
Diameter: 21.6 mm
Maximum Authorized Mintage: 300,000
1995-W Uncirculated Civil War Battlefields $5 Gold Coin
Pre-Issue Price: $180.00
Regular Price: $190.00
Final Mintage: 12,735
1995-W Proof Civil War Battlefields $5 Gold Coin
Pre-Issue Price: $195.00
Regular Price: $225.00
Final Mintage: 55,246