After issuing just a single commemorative coin in the previous year, for 1991 three programs comprising five different coins were authorized. The 1991 Mount Rushmore Half Dollar (Buy on eBay) was issued as part of a program celebrating the 50th anniversary of the Mount Rushmore National Monument. The clad half dollar was issued along with a silver dollar and $5 gold coin.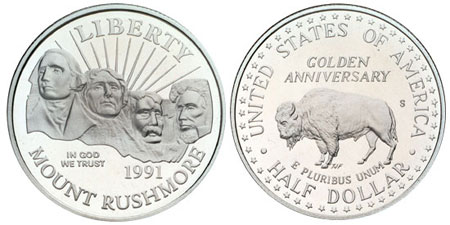 The obverse design of the half dollar features an image of the the Mount Rushmore Memorial, the world's largest carved stone sculpture. A sunburst appears in the background with the inscriptions "Liberty", "Mount Rushmore", "In God We Trust", and "1991". The obverse was designed by Marvel Jovine.
The reverse, designed by T. James Ferrell, depicts the great North Western American Bison, also commonly referred to as a buffalo. There are fifty stars positioned around the outer edge of the coin and inscriptions "United States of America", "Golden Anniversary", "E Pluribus Unum", and "Half Dollar".
The Mount Rushmore Half Dollar carried a maximum authorized mintage of 2,500,000. The proof version of the coin was minted at the San Francisco Mint and the uncirculated version at the Denver Mint. The coins were available individually or as part of two, three, or six coin sets incorporating the silver dollar and $5 gold coin.
Half of the surcharges raised through the program were used to enlarge and renovate the memorial. The other half was placed in the Treasury General Fund to reduce the national debt.
Coin Specifications
Designer: Marcel Jovine (obverse), T. James Ferrell (reverse)
Weight: 11.3400 g
Composition: 91.67% copper, 8.33% nickel
Diameter: 30.61 mm
Maximum Authorized Mintage: 2,500,000
1991-D Uncirculated Mount Rushmore Half Dollar
Pre-Issue Price: $6.00
Regular Price: $7.00
Final Mintage: 172,754
1991-S Proof Mount Rushmore Half Dollar
Pre-Issue Price: $8.50
Regular Price: $9.50
Final Mintage: 753,257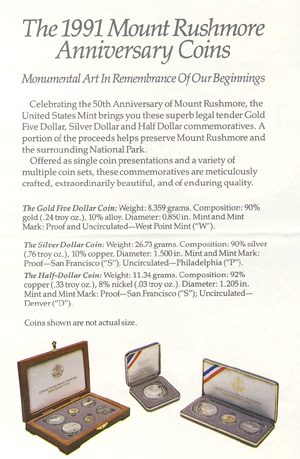 Other 1991 Mount Rushmore Commemorative Coins
1991 Mount Rushmore Silver Dollar
1991 Mount Rushmore Gold Coin