The 1995 Paralympics Silver Dollar (Buy on eBay) was issued together with eight other silver dollars and eight other gold and clad coins to commemorate the Atlanta, Georgia XXVI Olympiad Summer Games. This silver dollar features a blind runner and is sometimes referred to as the 1995 Blind Runner Silver Dollar.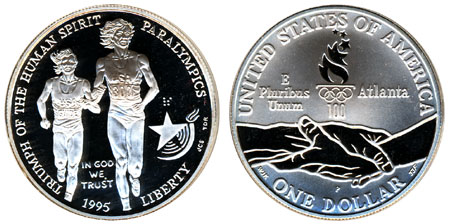 The obverse of the coin features a blind runner tethered to his seeing companion during a race. This was designed by James C. Sharpe and modeled by Thomas D. Rogers. The inscriptions read "Triumph of the Human Spirit", "Paralympics", "In God We Trust", "Liberty" and the date "1995". The Paralympic mark appears along with the Braille inscription for "Spirit".
The reverse of the coins features two clasped hands which represent the concept of brotherhood and team spirit embodied by the Olympic Games. This design was used for all four 1995 Olympic Silver Dollar Coins. It was designed by William Krawczewicz and modeled by T. James Ferrell. The inscriptions include "United States of America", "E Pluribus Unum", "Atlanta" and "One Dollar".
The 1995 Paralympics Silver Dollar was produced in uncirculated version at the Denver Mint and proof version at the Philadelphia Mint. The coins were available individually or as part of some multi coin sets. The maximum authorized mintage was a lofty 750,000 coins, which was not reached. The low sales figures translated into low mintages, which makes these coins sell for more than their original issue prices on the secondary market.
Coin Specifications
Designer: James C. Sharpe (obverse), William Krawczewicz (reverse)
Weight: 26.7300 g
Composition: 90% Silver (0.7736 ounces of silver)
Diameter: 38.1 mm
Maximum Authorized Mintage: 750,000
1995-D Uncirculated Paralympics Silver Dollar
Pre-Issue Price: $27.95
Regular Price: $31.95
Final Mintage: 28,649
1995-P Proof Paralympics Silver Dollar
Pre-Issue Price: $30.95
Regular Price: $34.95
Final Mintage: 138,337