The third part of the 2022 Negro Leagues Baseball commemorative coin program issued to celebrate the centennial of the founding of the league in 1920 was the clad half dollar issued in uncirculated and Proof versions.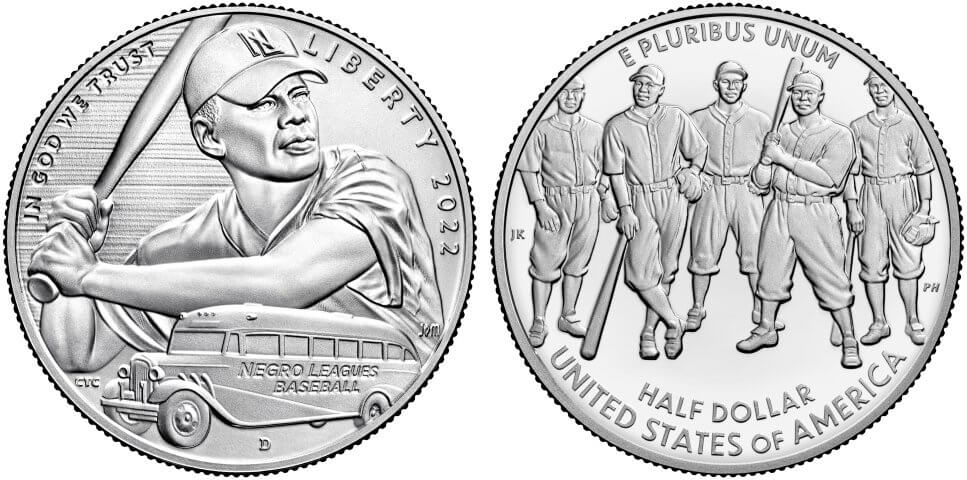 The obverse of this coin is dominate by a large image of a player at bat while below him appears a Negro Leagues tour bus that served as their home when they were refused entry to hotels and restaurants. This side was designed by Chris Costello and sculpted by Joseph P. McGraw.
The reverse side features five Negro Leagues players in uniform wearing caps with several holding bats or wearing a catcher's mit.
These coins went on sale on January 7, 2022 for $33 for the uncirculated coin (Buy on eBay) and $38 for the Proof (Buy on eBay), which included a $5 surcharge that went to the National Negro Leagues Baseball Museum to help fund education and outreach programs. Each price was increased by $5 from February 7, 2022.
Sales for the first three days were 5,489 for the mint state half dollar and 8,979 for the Proof half dollar plus another 2,194 Proofs in the three-coin set.
As of June 12, sales were 8,789 for the uncirculated and 18,558 for the Proof plus 3,476 for the set.
Coin Specifications
Designer: Chris Costello (obverse), Justin Kunz (reverse)
Weight: 11.340 grams
Composition: 9.33% nickel, 90.67% copper
Diameter: 30.607 mm (1.205 inches)
Maximum authorized mintage: 400,000
2019-D Uncirculated Negro Leagues Baseball Clad Half Dollar
Pre-issue price: $33.00
Regular price: $38.00
Final mintage: TBD
2019-S Proof Negro Leagues Baseball Clad Half Dollar
Pre-issue price: $35.00
Regular price: $40.00
Final mintage: TBD